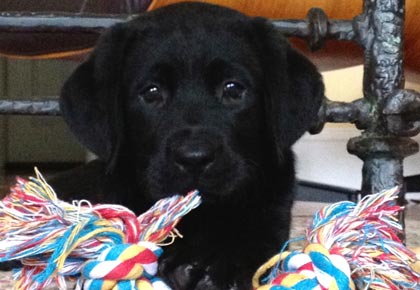 Dog Toys Approved by Endless Mountain Labradors
Endless Mountain Labradors – Approved Dog Toys
Everyone is ALWAYS asking what toys we recommend for labs, here at Endless Mt.! 🙂   Below are some of our favorites (well, the dogs' favorites!)… and we do offer a crate package full of these fun goodies at the time that you pick your puppy up!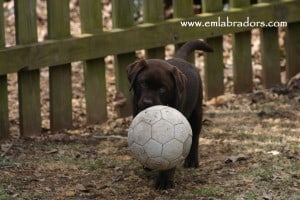 Kongs
We LOOOOOOOOVE the Kong!  Not only are they indestructible (especially if you get the black color, "extreme"), but you can stuff all sorts of treats and yummies in them for your pup!

Nylabones
Nylabones are another great, durable toy for your labby poo!  They even come in a variety of flavors, like chocolate. 🙂  (the safe kind!) In fact the pack shown below is exactly what comes in our crate package!

Balls, Balls, Balls!!!
Need I say more???  They are called Labradors Retrievers after all!  Tennis balls are typically fine, but if your pup is tough on those, you can get some from the Kong brand too that are indestructible!


Rope bones
Rope bones can be a fun chew toy for pups while their teething, especially!  If you get the ones that are tightly woven with soft small strings, you don't have to worry about your pup getting a string or two out at a time.  These also come in our crate package.
Stuffed, squeaking, croaking, and more!
Pups love variety!  We like to get an assortment of sounds and textures in our toys. Some of our labbies love to carry around stuffed animals like a baby. 🙂  Our crate package incorporates some stuffed toys, some rubber and chewy, some squeaky, and our favorite… the croaking froggy toy! 🙂  If your pup or dog is one that is a bit more destructive with stuffed toys, stick with the kongs, nylabones, and the like!



 [youtube width="1000″ height="625″]https://www.youtube.com/watch?v=a_mYPV9arQM[/youtube]