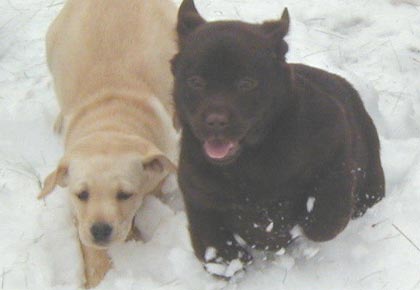 Cold Winter Safety Tips for Your Labrador Love!
Cold Winter Safety Tips
It's the most wonderful time of the year!!  To be a lab that is… Labradors LOVE the snow!  They will play, play, play all day long in this fluffy white stuff if you let them!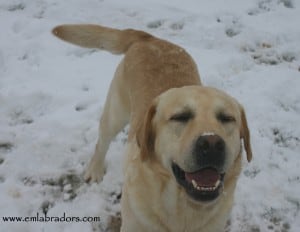 Even though Labradors are indeed bred for the cold weather and to swim in icy waters with that thick double coat, know that it can in fact be TOO cold for your labby to be outside… and there are certain safety standards you should always follow in the wintertime.
Water supply
Make sure your lab ALWAYS has access to drinking water while spending time outdoors ANY time of year.  And here's a pretty (should be) obvious tip… if their drinking water has frozen while outside… they've been out TOO long!!
Shelter
Again, standard for any time of year, make sure your dog has standing shelter (such as a dog house) while outside.  DISCLAIMER: This does NOT mean having a doghouse outside is sufficient for EXTREME cold temperatures.  If it's getting too far below freezing out, it's time for Fido to hurry up and do his business and get back indoors where it's toasty. 🙂
Be careful of ice!
Watch for icy spots in your yard or the sidewalk while walking with your canine companion.  The pads of his/her feet can be very sensitive to that slick ice and get very sore. Not to mention the salts and chemicals used on roads and sidewalks can crack pads too.  It's a good idea to make it a habit of wiping your pup's feet off when you bring him/her indoors, as well as wiping off their underbelly and lower legs.
Get a vet check-up before the colder months
It's important to be conscious of your lab's health, always, but especially at this time of year.  Cold temperatures can aggravate arthritis and other health issues in dogs.
Be ready for warm cuddles after playtime outside!
There's nothing like cuddling up on a cold day with some cozy blankets and your labby love in a warm house… in front of a fire… with some hot chocolate… next to the Christmas tree… I could go on and on with this picture of pure heaven. 🙂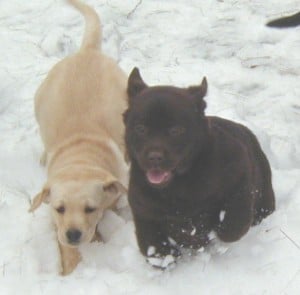 So Happy Wintertime to all and Enjoy the Winter Wonderland!! 🙂