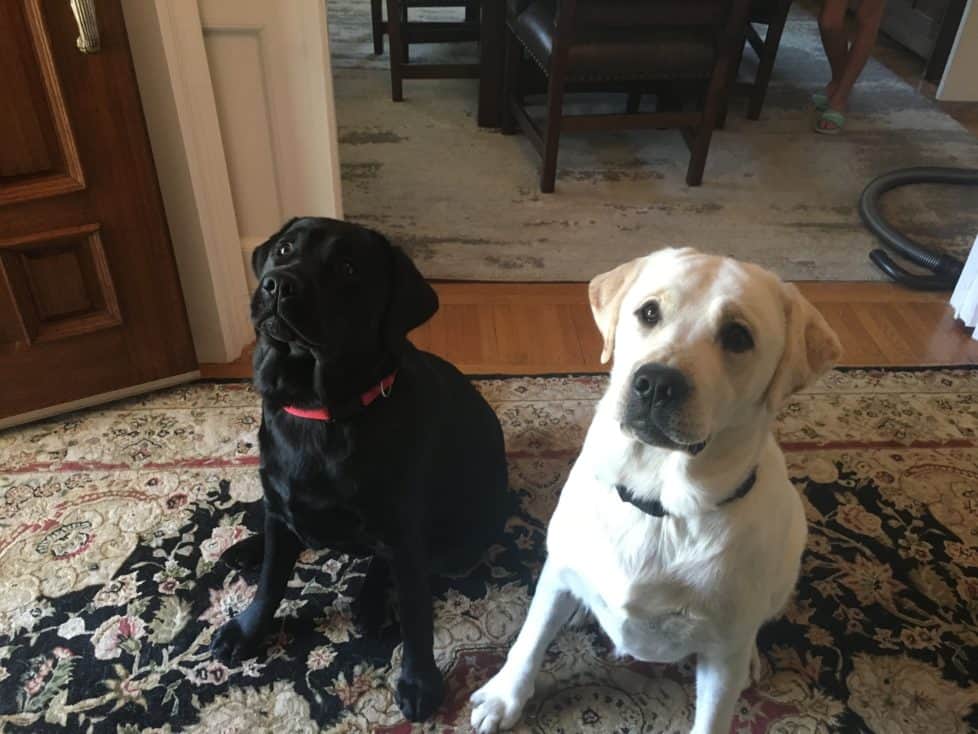 New Year's Resolutions for a Healthier Pooch!
Every New Years that rolls around, we hear resolutions left and right for bettering ourselves, getting healthier, and making a change in our routines. "New Year, New YOU!", we hear.
But what if we looked outside of our own personal growth and betterment, and thought of what we could do to better take care of those that are completely dependent on the decisions we make for them? Of course I'm talking about our fur babies! Our pups completely rely on us to research nutrition, supplements, exercise, and health choices for them. They really have zero control over these things. We owe it to them to do the very best for their health and wellness!
Finding a High Quality Well-Rounded Supplement
We have been giving all of our dogs NuVet Plus for about 20 years now! All of our pregnant mamas and pups are raised on it as well, and puppies are kept on it with their new families. We cannot recommend enough this awesome little wafer. What's wonderful about the NuVet supplement is that it's in the form of a tasty wafer instead of some pill or capsule your dog will fight you on. This powerful treat boosts their immune systems and supports proper growth and development. It's also great for skin and coat!
For more information on NuVet, click here!
To go right to NuVet's order page, click here! It adds less than $20 per month to your budget, and that's not even with autoship and quantity discounts. Trust me, you'll find that it's more than worth it!
Supporting Aging Joints
Have a gracefully aging furbaby? Or looking to be proactive with your mature adult? NuVet also carries an amazing joint support supplement called NuJoint Plus! They offer both regular strength as well as double strength formulas. We tend to start our labbies on this at about 6 years old, to be proactive for their joints. We know larger breeds are prone to joint soreness as they get older, and we've seen great results with NuJoint Plus and NuJoint DS. Our Preston several years ago started having some stiffness in his older age, and it was just about the time that NuJoint DS came out. We started him on that right away and I'd say within two weeks we couldn't believe the difference! He was getting up from his bed with ease, and running about like his normal self again. To read more on NuJoint supplements, click here! To jump right to their order page, click here!
Feeding a Species Appropriate Diet
If you want to know the absolute best feeding option for your dog, hands down, we'll say a biologically approprate raw food diet (BARF diet). I know, the acronym is a bit funny, but it stands out right? We could go on and on about the reasons why feeding raw is the absolute healthiest option for your pup, but how about you just click here and read up a bit? If you're convinced, click here to jump right to the order page for the easiest way to feed raw (just thaw and serve)!
Choosing a Quality Kibble
Ok so maybe you've looked into our recommendation of raw diet, but there's something just making that not an option for you. If you're going to feed a dry dog food (kibble) diet, our best recommendation to you would be a Florida based company called Life's Abundance. "The brand you feed is the most important decision you can make as a pet parent. Because your dog eats the same food every day, it's his primary source of nutrition. And a superior dog food can help to foster a solid nutritional foundation, which can help sustain your dog over a long and healthy lifetime. As a caring pet parent, it's important that you see through marketing ploys designed to mislead you about the quality of ingredients and their intended dietary benefits." Our puppies are weaned and go home with the All Life Stages formula from Life's Abundance. This specific food is designed to be fed from puppyhood right through adulthood. The amounts will just vary based on age. They do have a grain free formula (which meets proper taurine levels and is NOT involved in the grain free food study connected to heart issues) if your pup has a grain sensitivity.
Shedding a Few Pounds
Ok, so quarantine has gotten to all of us a bit right? We're maybe not exercising as much as we should be, emotionally eating, and just in general lounging around more at home.. which let's be honest, your puppers is loving. But his waistline may not be loving it so much… Carrying extra weight is very stressful on your dog's health (in many of the same ways it affects us). One of the most obvious effects is added stress on their joints and frame, which can lead to premature arthritis. When it comes to our English Labs, we know that they have more bone and substance that American type Labradors, but allowing them to carry too much weight will not benefit them longterm. The two keys to assessing weight for your dog's frame, is do they have a waist? and can you feel their ribs? If you look down at your dog from above while he stands, and he looks a bit like a sausage link with no waist… he's probably a bit too heavy. And if you can't gently push with your fingers and feel his ribs through his cushion, there may be too much cushion…
Life's Abundance has an Adult Weight Loss Formula that will help boost your pup's metabolism and not feel like they're being starved to lose those extra pounds! Click here to jump to their ordering page.
"To help give you the peace of mind every pet parent deserves, the premium nutrition of this dog food has been proven through a feeding trial as defined by Association of American Feed Control Officials."
Using Less Toxins
Aside from nutritional choices, one other way you can help your pups overall wellness is by using less toxins in his or her everyday routine. Whether it's flea and tick prevention, cleaning their ears, or just bathing them, choosing the cleanest products for the task is key. Many of you have known or used our essential oil blends for pets, and the product line recently had a bit of a facelift! Check out the new website for OLIA essential oils for pets, here! All of these products are pet safe, carefully formulated and diluted for topical use, and 100% natural. There's so much relief in knowing you're using safe, clean products with your pets, and eliminating concerns for unwanted side effects of harsh chemicals or medications.
We hope this post inspires you and gives you some ideas to better your pupper's health, along with your own!
From all of us here at Endless Mt, we wish you a Happy and Healthy New Year!