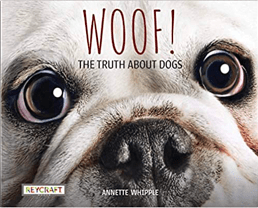 Guest Blog: Labrador Lover and Author, Annette Whipple (Interview)
Tell us about your first dog, the name, and how this influenced you to write "WOOF!"
I have such fond memories of my first dog! He was a golden retriever lab mix named Dog. He was a constant companion and friend. One of my favorite memories is dancing with him to one of my dad's old records: "Hooked on a Feeling" by B. J. Thomas.
When I was brainstorming animals that I could continue with The Truth About series after Whooo Knew? The Truth About Owls was finished, dogs were at the top of the list. They're so familiar to us, yet I felt I didn't know enough about them. Woof! The Truth About Dogs was a natural book to add to the series.
 Why do you think your readers are going to enjoy your book?
I've been hearing from dog lovers how much they appreciate knowing the science of dogs. Many have commented how the book is packed with information, and though it's written with children in mind, adults learn lots, too. However, I've also been told that Woof! The Truth About Dogs has helped some children not be as fearful of dogs as they understand them better. That makes my heart happy. Readers also love how visual the book is. Each page spread includes lots of photographs as well as an illustration sharing a bit of humor from the dog's perspective.
Tell us a little about your experience with Labradors in your life. 
Ah! My dogs have all been Labrador mixes. I quickly learned how playful and smart Labs are. As I grew up, I learned to appreciate their cuddles and faithfulness, too. Big personalities combine with playfulness and intelligence make Labradors pretty paw-some
 In two sentences or less can you tell readers something unique about your book?
Woof! The Truth About Dogs is a question-and-answer book that packs in lots of information while highlighting the beauty of dogs through photographs.
List three adjectives that describe your book as a whole:
informative, engaging, visual
Where can a reader purchase your book?
Woof is available at your local bookstore or online. Just ask for it by name!
To support local bookstores and have your book delivered to you, try Bookshop. https://bookshop.org/books/woof-the-truth-about-dogs/9781478873808
Or you can try Amazon.
Where do you find your ideas? Does something trigger them? Do you carry around a notebook in case inspiration strikes?
This world and the people in it inspire me! I always like to have a notebook close by. In addition to my writer's notebook where I jot down ideas, I keep notebooks on my nightstand, in my purse, and in my car.
Have you written your entire life? Have you always considered yourself a writer?
I wasn't interested in writing until I began blogging about my daughter's progress as she overcame a speech disorder called apraxia. Eventually I took classes to be a better writer and wrote a few magazine articles. My first book idea came in 2014. Then I took lots more classes and studied the publishing industry. I love to share this world with others—both history and science. Though I teach and mentor other writers, I'm also always learning!
What are your strengths as a writer?
Writing for children is difficult because the writer must be clear and concise. When writing nonfiction for children like I do, it's important to really understand a topic before trying to make it easy for a young reader to understand. I've learned hands-on research is the most effective for me. That might mean visiting a unique museum to meet with an expert on my topic, meeting an owl, or holding a tarantula. I think it makes me a better writer, too.
What is your favorite food?
Well, I love homemade chocolate chip cookies and cheese pizza. However, I'm trying to choose healthier so I'll mention my love of barbequed chicken and apple slices, too.
What are you currently reading?
I just began Bleak House by Charles Dickens. It's a classic I have never read! I typically have at least two books I'm reading and another I'm listening to, so I'll keep going. I'm also reading Called to Create by Jordan Raynor and listening to If I'm Found by Terri Blackstock. I recently read the informational children's book Summertime Sleepers by Melissa Stewart, too.
In all the books you've read. Who is your most favorite character and why?
Emily Webster of Emily of Deep Valley by Maud Hart Lovelace is my favorite character. While her friends go off to college, Emily cares for her elderly grandfather. She fights depression, helps immigrant families, and learns that education doesn't need an institution. The book was first published in 1950.
Here's Annette's Bio:
Annette Whipple celebrates curiosity and inspires a sense of wonder while exciting readers about science and history. She's the author of ten fact-filled children's books including The Laura Ingalls Wilder Companion: A Chapter-by-Chapter Guide (Chicago Review Press), The Story of the Wright Brothers (Rockridge Press), and Whooo Knew? The Truth About Owls (Reycraft Books). The Truth About series also includes books about dogs, spiders, frogs, and cats. When Annette's not reading or writing, you might find her baking for her family in Pennsylvania. Get to know her and explore her resources for teachers and writers at www.AnnetteWhipple.com.