Picking Up Your Puppy
---
We do not ship. Our clients always fly in or drive to get their pup. Most people find they actually SAVE money flying up here themselves, anyway. You can get a discount airline ticket for less than it costs to ship a pup anywhere in the US. If you reserve 14-21 days in advance you can save greatly…AND its less stressful on the pup, and you.  You can ride with the pup right under your seat in the cabin in one of those mesh dog carriers. But most of all, we feel it's important (when making a 15 year commitment like this) that you meet your pup's breeder, and parents.
We have at least one or two people fly in for each litter. It goes smoothly, and we have been doing it for 20 years…give us a call for more info, and airport info.
Everyone typically flies into the Elmira/Corning Regional Airport.  There is a shuttle available (contact Bill's Taxi 607-731-8801) that will bring you down, and wait for you while you pick your pup and do paperwork, then take you right back.  Some people fly out the same day because it is so convenient!
When making your reservation, tell the airline you will be flying with your pet, which will be under 20 lbs, and you can use the mesh carriers and put the pup right under your seat in the cabin.  We will be sure you have all health information for your pup to fly on the plane.
www.ecairport.com
General Info line/info on shuttle:  607-795-0402
(After Feb 17th, 2017, American Airlines will be phased out at Elmira/Corning, but you can still fly into Williamsport,PA, if needed on American Airlines–its only 55 min from us)–Elmira/Corning Regional Airport will still have Delta and Allegiant Airlines as always, and will probably be adding new airlines soon, as they are expanding that airport! YAY!) You can also check Ithaca, NY airport–they are only an hour away from us!
Be sure to check with your airline as to their guidelines for flying with your pet.  Tell them you will be traveling with your pet when you place your reservation, and that it will be under 20 lbs and will fit under your seat as a carry-on. Some charge extra for this, some don't.
Taxi Service: Call Bill's Taxi (above) first, he knows the way to our place by heart!
The Elmira/Corning Regional Airport is located in the town of Big Flats, NY, just off Exit 50 from the interstate Rt 17 (now Rt 86). Bill's Taxi also picks up people from Ithaca, NY!
Checklist for flying with puppy: When making reservation, mention you are flying with your pet, 8 week old pup, will have health certificate, and the weight is under 20 lbs. Order the airline approved mesh carrier for pets that fits under the airline seat. Or any Petco/Petsmart should carry this type of bag. Get one large enough to fit a 15-20 lb puppy, to be safe. They can assist you in choosing the correct bag!
Carry with you:  baby wipes, a few towels, pet toys, bottled spring water.
Below: One of our pups awaiting their flight home in the Elmira/Corning Regional Airport (thanks Pete Espinosa for the photo!):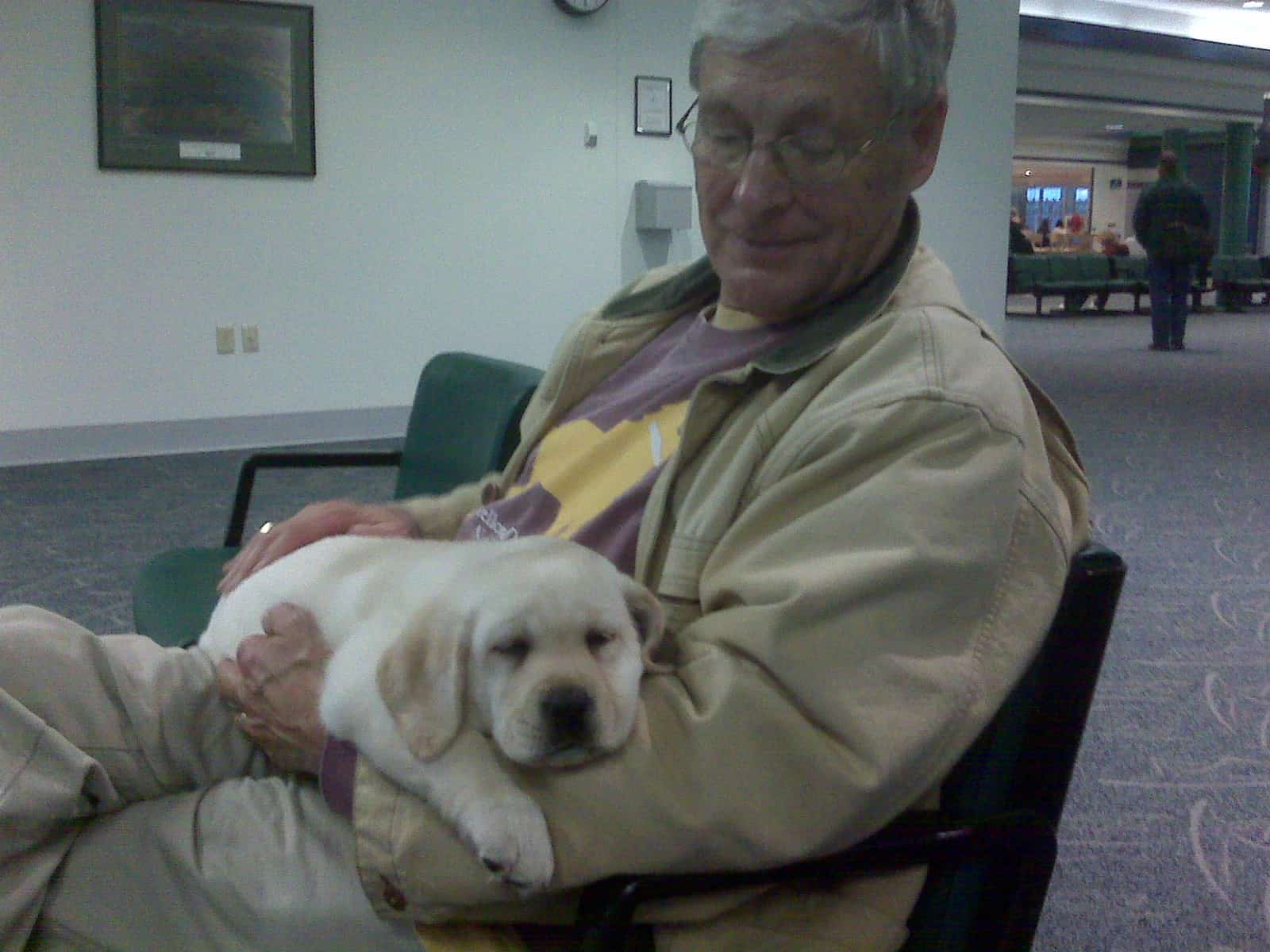 HERE'S SOME TIPS TO TRAVELING BY PLANE WITH YOUR PUP!
Bring some paper towels (its safer to let them potty in the restroom than the designated outdoor areas–you don't know what dogs have been there!) So let them go on the tile and just clean it up!  Have some baby wipes on hand too…they are handy for cleaning any spill, accident or anything else while traveling.
Puppy must be in carrier during boarding and de-planing. Otherwise, if you have a nice flight attendant, they may let you have the pup out during the flight. At least, if you have them under your seat (which you will) you can reach down and unzip the carrier and pet them, talk to them, and play with them. (Hint: if you get a grumpy flight attendant and there is a screaming kid on your flight…kindly say "as soon as you get that child to stop screaming, I'll put my puppy back in the carrier"…LOL) Its worked for people before 🙂
Have a variety of toys to play with, preferably silent ones…Durabone has packs with several different flavored chews…Kongs, and toys with different textures are good for variety. Having a couple towels to line the carrier is good, too. (one extra in case the first one gets soiled)
Be sure to have a small bottle of our "Calm Puppy" blend (spray). We'll also give you some herbal calming tablets, as well, that you can use for the flight. They are not pharmaceutical, so they will not make your puppy "drugged."
Have bottled water on hand to offer puppy along the way. Do not give large amounts, in fact, licking ice off and on during and between flights is perfect. (sometimes I freeze a small tupperware jar/bowl with bottled water before a flight, then cover it and use it while traveling)
Although it is VERY rare, pups sometimes get travel sickness. Have some liquid children's Imodium handy, just in case. Giving a few encapsulated ginger tablets can be helpful to prevent travel sickness. (your local health food store should have some available)
Traveling can sometimes be stressful on puppy, so having the Imodium on hand will help if you get some "stress poops" on the journey.
(Some other airports in area, but they are a farther drive than Elmira or Williamsport–Buffalo, Rochester)