Life's Abundance Dog Food
---
At Endless Mt. Labradors, we have always shied away from big box commercial pet food brands, preferring homegrown and reliable businesses that care about the product they are putting out, and the beloved pets that are consuming it. Too often the commercial brand "big box store" end up outsourcing and cheapening their ingredients (especially the types of protein–replacing them with legumes which are not species-appropriate for canines) to increase the bottom line. We have to worry about fillers, GMO's, phytoestrogens and animal by-products. And then of course there are new recalls and reports of contamination on an almost daily basis. 
The brand you feed is the most important decision you can make as a pet parent. Because your dog eats the same food every day, it's his primary source of nutrition. And a superior dog food can help to foster a solid nutritional foundation, which can help sustain your dog over a long and healthy lifetime.
As a caring pet parent, it's important that you see through marketing ploys designed to mislead you about the quality of ingredients and their intended dietary benefits.
Additionally, some competing brands use wheat and wheat glutens, corn and corn glutens, as well as artificial food colors and preservatives. Life's Abundance never has, and we never will. That's part of our commitment to you and your dog to provide the safest and most innovative nutritional formulas for a better life.
Bonus? Life's Abundance is certified as an Evergreen Company! What does that mean?
From their website:
"Life's Abundance has been certified as an Evergreen company by the Tugboat Institute. We measure success by how well we deliver on our Purpose, and embody the 7Ps, the defining characteristics of Evergreen. Purpose, Perseverance, and People First – define the character of our leaders and team. Private, Profit, Paced Growth, and Pragmatic Innovation – reflect the long term strategy tenants of our Evergreen business."
We also know that what goes into your pet's body, is at the core of their overall health. Dogs are not meant to consume corn, soy, high amounts of legume proteins (beans, chickpeas, etc), or tons of grains. And many breeds (including our labs) "can" have wheat sensitivities which can lead to itchiness, shedding, and hot spots. So we've selected this particular food for this reason. There is a grain-free formula available if you prefer that, but in OUR labs, we have seen them do wonderfully at each age on the regular "All Life Stages" formula.
As Labrador breeders, we had to make a critical choice in foods, when considering the specific dietary needs of our breed. Labs can be sensitive to various food allergies, so it's very important that we save our clients and their pets from suffering the heartbreak of a sub-par diet that may plague their new family member with a multitude of health issues including allergies and GI issues– and unnecessary vet costs.
While the top five ingredients of a given dog food provide the consumer with insight into the nutritional priorities of a pet food maker, they don't tell the whole story. Every ingredient plays a critical part, which is why they provide a comparison based upon eight different quantitative measures. Furthermore, the secret to superior pet food lies in the formula itself – not only in the ingredients, but also in the proportions of those ingredients to one another.
The significance of the ratios cannot be understated. Our now retired formulator, Dr. Jane Bicks, stressed the importance of synergism, or the interaction of ingredients, because the proper proportions help to maximize the nutritional impact of a formula. As with any recipe, if you use the wrong ratios, you will get very different results.
With quality ingredients working synergistically with one another, you can be certain that you're providing the very best for your companion animal.
Pet Food or Junk Food?
Not all pet food manufacturers have your dog's best interests in mind. Unfortunately, many use ingredients that you would never knowingly feed your dog. Some intentionally attempt to mislead you with clever marketing, touting ingredients that sound appealing to you but are not actually suited to the nutritional requirements of dogs. At Life's Abundance, they focus on what canines truly need to help ensure a lifetime of good health, rather than on making the cheapest possible product that might not fulfill your dog's dietary needs.
With veterinarian Dr. Jane Bicks as the original pet product formulator, Life's Abundance was founded over 20 years ago. Life's Abundance All Life Stage Dog Food also contains guaranteed live important pre and probiotics that aid in your dog's overall gut health and digestion (many foods that tout probiotics are found to be "dead on arrival" and have no chance to even benefit your pet). These key ingredients, including several other needed vitamins, also support your dog's overall immune system. This food is one of only two I know of that have never had a recall, nor stooped to using the latest cheap ingredients as so many other premium kibbles have in the past couple of years. We've personally inspected their corporate headquarters, spoke with the company President and CEO, and met most importantly, Dr. Jane Bicks herself.
Even though the quality and variety of ingredients provide insight to the strength of a food's formula, they shouldn't be your only consideration when choosing the right food for your dog. In fact, the process by which the food is made is equally vital. Life's Abundance premium dry health food is prepared by a family-owned, third-generation pet food maker, where creating a high quality food is not only a priority and a family tradition, it's an art form. Batches of food are produced in limited runs on a weekly basis, minimizing periods of storage and helping us to deliver the freshest-possible product to your front door.
When you pick up a bag of dog food from a retail store, it's impossible to know the history behind the product you're holding. You don't know how long it's been on the shelf, or how long it lingered in the storeroom before being placed on the shelf. You don't know how long it was stowed in a shipping container, subjected to temperature extremes. You don't know how long it was stockpiled in a distribution center prior to shipping. In fact, many mass-produced dog foods are stashed away in tractor trailers without any form of climate-control for weeks, even months. And, you have no idea if proper handling of bags and pest-control are priorities for the packaging centers and warehouses where the product is bagged and stored.
Why does it matter that you can't know the history of the retail product? As you might correctly guess, the way a dog food is stored can directly affect its nutritional value and safety.
The excerpt below is taken from Life's Abundance website:
"At Life's Abundance, we make healthy living easier with products that are inspired by nature and informed by science. With a focus on safety, it is our commitment to use as many natural ingredients as possible, to ensure our product's quality and efficacy, and to back it up with first-class customer service."
Super growth foods are not recommended for large breeds, as they can lend themselves to overgrowth and contribute to joint problems (specifically hips). Protein levels are suitable for either puppies or adult dogs.  This food will not give your pup runny stool like many high protein puppy foods.  Do not feed puppy chow, or super growth puppy foods. Technically, Labradors are a medium-sized breed, according to the AKC, not a "large breed." We feed a food that is an All-Life Stage formula and will be just fine for the growth of your pup up through adulthood.  Let the NuVet supplement supply added strengtheners/builders/antioxidants without adding the calories, fat and protein that are harmful. DO NOT FEED STORE-BOUGHT TREATS.
Keep your puppy on this food to provide a smooth transition to your new surroundings, as he/she has been on this food at our kennel before leaving here.  Changing foods can cause abdominal, intestinal, and emotional stress.  Please respect this.
We will have some of this food available at the time you pick up your pup, so you do not need to pick any food up before you come, but we can send you the correct link to order ahead of time if needed. We can also help you get set up with "auto-ship" so you will conveniently have food on hand at all times and don't have to worry about running out or planning a week ahead to place an order (you can save up to 20% if you use their "Auto-ship" option!!)
Many people ask me about cost. It's a great question, but even though this food is reasonably priced for the high quality, it is actually more nutrient-dense than others, so you feed LESS, which means your price per pound and price per FEEDING goes down and is actually less to feed than most grocery store pet foods! For instance, if you are feeding 3 cups of another kibble, you'd be feeding 2- 2 1/2 cups of L.A. It only takes some simple math to realize the savings. (see chart at bottom of page for some price comparisons)–Independent Field Representatives, Jonathan and Donna Stanley, Endless Mt. Labradors.
Since many people ask what kibble we use and recommend, I thought I'd also add this chart below so you can compare foods:
(Click on chart to enlarge)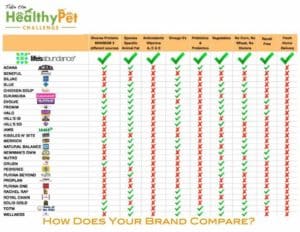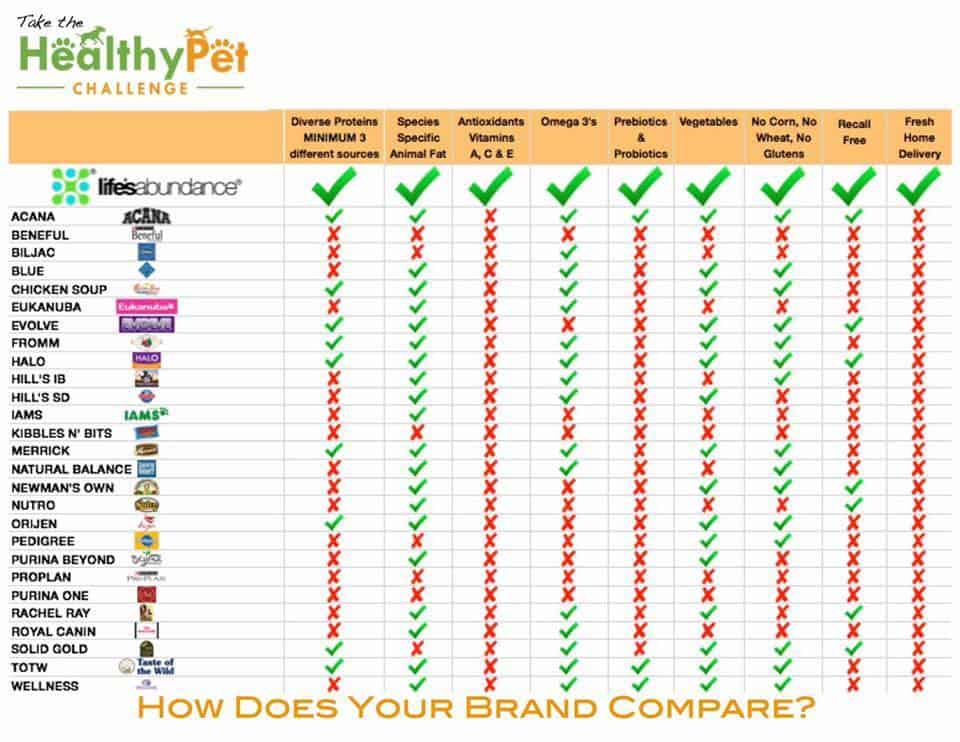 Click here to compare to BLUE BUFFALO:  https://www.lifesabundance.com/Pets/LifesAbundance/DogFoodComparisons/Blue.aspx
https://www.lifesabundance.com/Pets/LifesAbundance/CatFoodComparisons/BlueBuffalo.aspx?realname=&cat=0&hdr=&Ath=False
Click here to compare to FROMM
Click here to compare to NATURAL BALANCE 
Click here to compare to NUTRO
Click here to compare to TASTE OF THE WILD
Click here to compare to ORIJEN
Click here to compare to PURINA ONE
Click here to compare to ROYAL CANIN
Click here to compare to WELLNESS
Click here to compare to RACHAEL RAY
Click here to compare to HILLS SCIENCE DIET
Click here to compare to EVOLVE
Click here to compare to HALO
Click here to compare to SOLID GOLD
Click here to compare to MERRICK
Click here to compare to NEWMAN'S OWN
Click here to compare to ARTEMIS
Click here to compare to BILJAC
Click here to compare to BENEFUL
IF YOUR FOOD IS NOT LISTED ABOVE, GO HERE TO COMPARE TO LIFE'S ABUNDANCE
TO COMPARE PRICE PER FEEDING/POUND: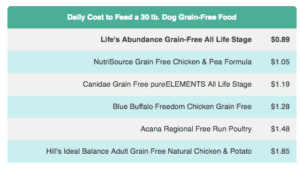 (CLICK CHART TO ENLARGE)
TESTIMONIALS:
"As if the quality of food isn't a good enough reason, here's a testament to their customer service. Long story short, my order should have come on Friday. UPS tracking said it was coming on Friday, all of a sudden it was delayed with no further information. Emailed Life's Abundance this morning. Received an email back from Life's Abundance that UPS would contact me and they did. Food is on its way to me now via a UPS employees personal car."–Amy Smith Coolidge
"I'm so thankful for LA!
I almost lost a dog to other brands and after that i was SO scared of EVERY food out their, UNTIL i found LA. Its been the biggest change ive ever made in my kennel, but MY BEST CHANGE !! I WILL NEVER FEED ANYTHING else, all 8 of my dogs are on LA's ALS and all my pups are raised on it and my dogs & puppies have NEVER been healthier!" –Karrie King
"Convenient ordering and auto ship of quality dog food. Have been feeding my dogs this food for many years now."–Joanne
"We have been using the food products for several years with excellent results. This is due to high quality and extremely consistent product. The true test is how our show dogs react both on health and coat. We recently had an issue with the latest delivery and the customer service response was swift and extremely high level of concern along with fast response. Thank you for all that you provide for all of my show poodles."–Barbara
"My lab pup loves this food. The breeder started him on it and we have continued him on Life's Abundance. He is now 7 months old. He is growing up healthy and strong with a beautiful shiny coat!!!" –Julie
REGARDING SOURCING OF LIFE'S ABUNDANCE INGREDIENTS:
What makes your food and products stand above the rest of the natural pet foods on the market today?
Life's Abundance pet food formulas and all other food products are, in my honest opinion, the highest quality holistic health products for dogs and cats available in the pet industry today. I feel confident sharing with you why I believe this.
First and foremost, we have never been on any recall list because our products undergo the strictest quality control testing of all pet food manufacturers. In addition to being APHIS Certified, our products are also tested scientifically through Eurofins as being SAFE! I compare this to Germany, as no other country meets their high standards for quality control. Basically what this means our pet food products could be sold in Germany if we exported them. This says a lot, and I'm not sure any other pet food manufacturer could pass these types of standards.
Our batches of Life's Abundance dry foods are produced in limited runs on a weekly basis, minimizing periods of storage and helping us to deliver the freshest-possible product to your front door generally within 4-6 weeks of being made. This is the #1 reason you will NEVER find our pet foods available in large chains, clubs or supermarkets.  A very sad fact, but it is widely known that the majority of commercial pet foods could potentially be 18 months old before stores stock their shelves. Prior to this, most of these so-called pet foods are stored in hot trailers with no air conditioning and no rodent/insect control. Pretty disgusting, if you ask me.
As previously mentioned, we do NOT skimp on ingredients. So many pet food manufacturers are still adding poor quality ingredients to their formulas. We have NEVER used inferior ingredients in any of our pet food formulas or products, and this includes corn, wheat, gluten and dairy.
I really could go on and on here, but I wanted to include the most important highlights of why I believe Life's Abundance pet products are the highest quality for the health, well-being and longevity of your precious pets.
Where do your ingredients come from?
Most ingredients that are used to formulate our Life's Abundance pet foods and products are obtained from ethical sources in the United States. In fact, we do our best to obtain local ingredients right from Florida, where our corporate office is located. The only ingredient we obtain from non-U.S. sources is the organic chicken used to prepare our delicious Instinctive Choice Canned Cat Food. We receive this organic chicken directly from New Zealand.
–Independent Field Representatives, Jonathan and Donna Stanley
---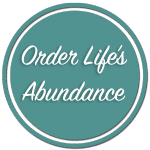 Is Life's Abundance Cost Effective?