Who is Endless Mt Labradors?
Jonathan and Donna Stanley were married in 1986, and shortly thereafter acquired their first Labrador together, Mandy. Donna fell in love with the breed, and knew she wanted to spend her life around these dogs. Mandy was the first Endless Mt Labrador, and the beginning of a long legacy of labs! Over the following years Donna learned more about raising Labradors, improving the breed, and breeding for the standard structure (that thick strong look we all love!) and the easy-going temperament of the English Labrador. (For a more detailed history from Donna herself, watch this video from our YouTube Channel!)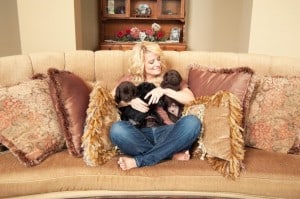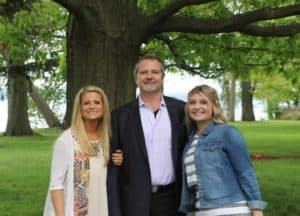 Donna began showing in the early 2000's, as she realized this was the best way to prove her labs according to the AKC standard of the breed, which goes beyond just the look of the dog. Every breed has a purpose, and their structure affects their ability to fulfill that intended purpose. From the Sporting Group, the Labrador Retriever emerges with smooth and athletic movement. That thick muzzle effectively carries a bird, those strong legs and rear propel it forward as it retrieves, and that otter tail works as a rudder in the water as they swim. And that sappy, mushy face that is so kissable… These dogs are gorgeous, strong, and loving. Welcome to the best breed you'll ever meet! Though, we may be biased!
From the start, hips were x-rayed and eyes were checked, but as years went by the development of genetic testing in Labradors has far advanced. We now certify hips, elbows, eyes, and hearts with the OFA. What this means is every labby parent has had these things checked out or x-rayed and certified by the OFA, to diminish the chances of your puppy developing issues like hip or elbow dysplasia, TVD and other heart defects, or cataracts and retinal folds and other congenital eye defects. We also do genetic testing on every dog to see if they carry diseases that are known for the breed. These include EIC (exercise-induced collapse), PRA/PRCD (progressive retinal atrophy/progressive rod-cone degeneration), CNM (centronuclear myopathy), DM (degenerative myopathy), HNPK (Hereditary Nasal Parakeratosis), RD/OD1 (Retinal Dysplasia/Oculoskeletal Dysplasia 1), and SD2 (Skeletal Dysplasia 2). It's important to know that this genetic testing shows if a dog is entirely clear of the gene for these diseases, carries one gene (but is not affected), or is affected by the disease. Most of our dogs are clear, though some carry EIC, PRA, or even less often HNPK. Even if a dog carries the gene, they can still be bred, but only to a dog that is cleared, so that the puppies have zero chance of ever being affected by the disease. There would have to be a gene received from both parents for that to happen.
Moving forward into the Endless Mt legacy… Donna has been doing this officially over 30 years now! Always from the start of course with Jonathan's help, but the last decade+, they have also enlisted some extra help. We currently have myself (Annastasia, you'll meet me over the phone or email!) Donna's righthand gal/assistant/office and program manager/maintainer of our client relationships and puppy parent finder. We couldn't figure out one title really, there's a lot of hats involved! My two girls are also often involved with puppy socialization and handling, and absolutely love the time they get to spend doing that.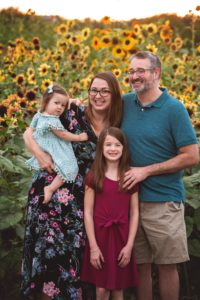 We also have our kennel manager, Felicia, who oversees the health, wellness, and caretaking of all our dogs and the staff who help her do so. She also raises litters, which her daughters especially enjoy! Felicia is beyond experienced in the animal world as a licensed veterinary technician, with a degree in animal science. She, her husband, and their three daughters live just a few miles down the road from EML. (I'll also note Chaes is our general handyman that pops in from time to time to help with whatever is needed at the kennel or office! We appreciate you, Chaes!)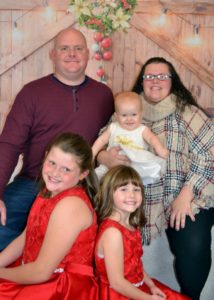 We also have Lindy, our puppy trainer, who lives right onsite at EML! Lindy does a bit of everything, from training puppies for clients (starts at 8 weeks old), raising litters, designing graphics and newsletters for our Endless Mt Essential Oil Blends for Pets brand, and filming/editing the YouTube videos on our channel! She is multitalented for sure, and a true dog lover.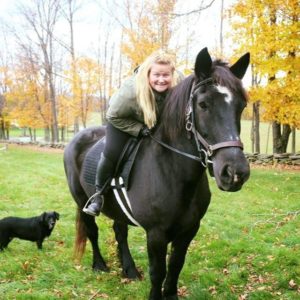 As the years have turned into decades, it's been important and helpful to bring others into our world here to help raise puppies and give Donna a bit of a break! While Donna does whelp some puppies, it's important to note that we do have other puppy raisers. Most often that will be Felicia, Donna, or Lindy, but we do also have longtime lab loving friends that we have trusted over the years to raise litters as well. Sometimes the mothers of those litters live with those friends, like our dear friend Karen who now has grandma Thyme (sister to Donna's Amy), her daughter Penny, and Penny's son Carson (our EML stud dog!). Carson just recently went to live with Karen and his mom and grandma, but he will still breed litters from time to time here! We have arrangements like this with several stud dogs and mama labs. Raising litters this way also ensures that each litter receives the socialization and attention they need. You will find this setup more common than you may realize with longtime breeders who are well known in their breed's "world" if you will.
Either way, we ensure that every one of our litters is raised to our standards with each puppy well socialized and handled to be best prepared for their life ahead with their chosen family!