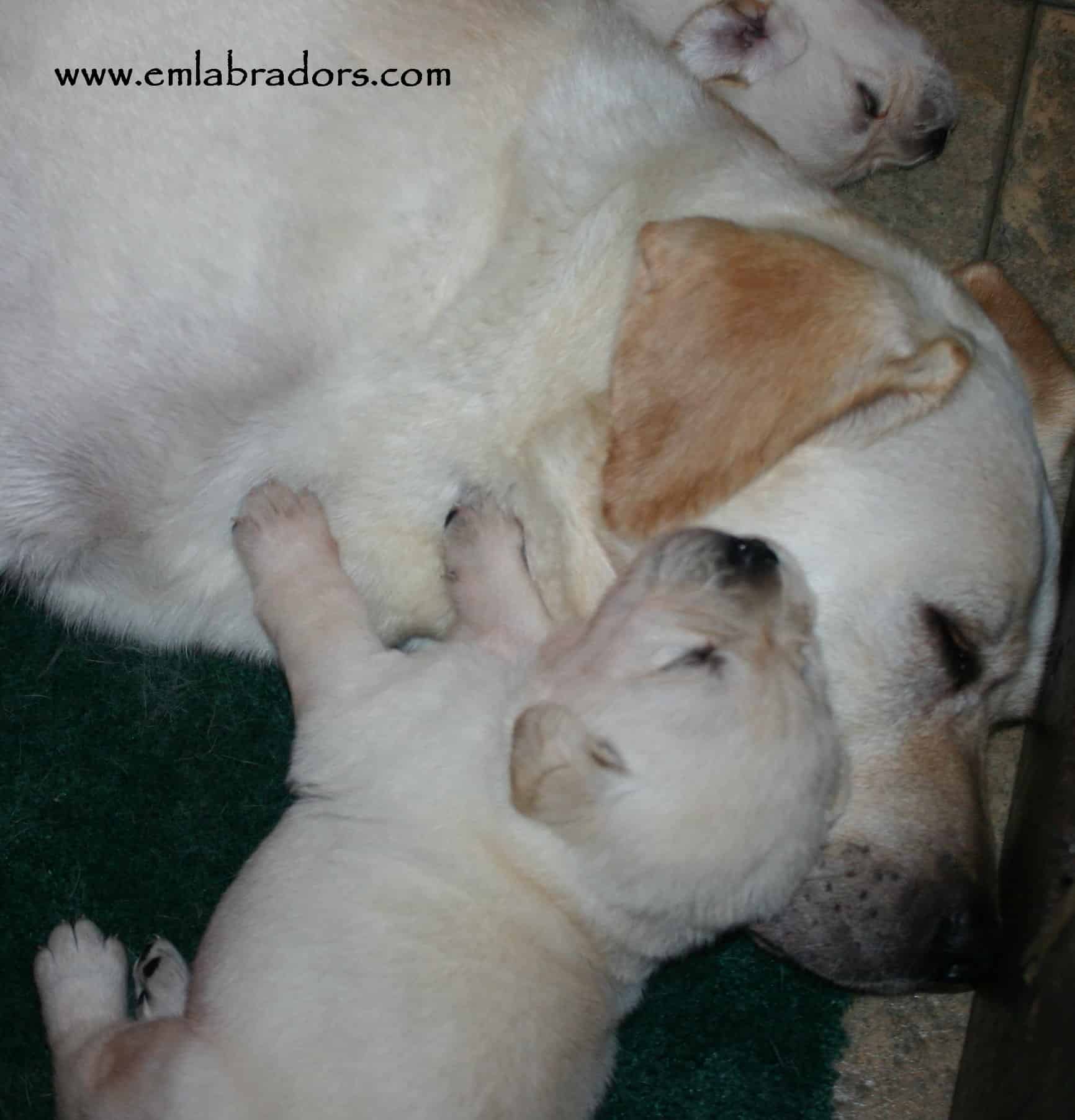 Our Girls: After Mama Life
Many people ask us, "What happens to your females once they are done having litters?".  We firmly believe in giving all of our dogs their own forever family eventually. Some of our dogs find that with friends of ours or family members nearby, while still in our breeding program. Others, once "retired" from the program, then go on to begin the next chapter of their life with wonderful families that we carefully pick for them. And yes, some do stay here with us (or with part of our staff family) for the rest of their years!
Some may say they would feel bad if they didn't keep every dog forever (we get that response to litters of pups too!), but in reality, we know it's impossible for us to keep every dog, and we know it's best for them to have the love and attention of their very own family! Maybe even with new doggy siblings!
Many of our retired girls have gone on to be with families already apart of our EML family, those that have gotten a pup or two from us before. And sometimes we add new members to our EML family when they adopt our girls. But either way, any time we hear and receive updates on these retired mamas from their new families, it melts our hearts and reminds us that we picked the best homes for ALL of our dogs! Puppies and adults!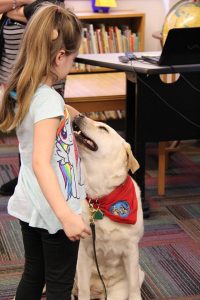 This is Hopey (formerly known as just Hope). Hopey was hand picked from her litter to stay and be a part of our Endless Mt. breeding program, to be shown someday and hopefully be a mommy! Hopey did have a couple of small litters, but ultimately she had some fertility issues (like many people can relate to I'm sure!) and was not able to be a mommy anymore. Bud and his wife Alice, came to us first to pick out their Abby, born to Sicily and Manny, in 2013. Last year when we retired Hopey, they called us and said they had been wanting to add another EML to the family, so that Abby could have a companion as well! They came back out to us and adopted Hopey, and quickly trained her to be a therapy dog! It's like she was born to do that job. We've heard the most amazing stories from Bud about both Hopey and Abby doing their jobs in nursing homes and schools.
Another sweet girl that found her forever home with an EML family, was Eden. Chris and his wife already got Laney from us (another Sicily daughter, actually!), and decided to come back and adopt Eden when she was all done having puppies. Eden and Laney are now expecting a new human baby in the family!
Now for a very special sweet girl, who is likely the mama or grandmama of many of you who have a chocolate from us! Our dear Emmy, daughter of the late great Doc.
Miss Emmy was and is a beloved part of our Endless Mt. family. When it came time for Emmy to retire from puppy raising, we knew only the best home would do for her! We sought out to find the right match for Emmy, and we certainly found it! Kim already had one Doc puppy, Finnegan, a lovable chocolate boy. She came out to meet our mama bear and it was love at first sight I'd say! With regular trips to the beach, Emmy loves to run and play and have a ball with her new brother (that was actually biologically her brother!). Kim has become a dear friend of ours, and we know Emmy and Finn are exceptionally well loved and cared for. She even has a new sister, Brandy, now!
---
And then there's Eleanor, an Emmy daughter:
Eleanor lives with her furever family, including Vegas x Atlas pup, Vinny! And her sweet little girl. Eleanor is the mama of our beloved Devon and Genevieve.
While the mamas mentioned here did go to families that already had an EML, having a dog from us is not a prerequisite to adopting a retired adult from Endless Mt. We have gained new owners in our EML family that have met us for the first time for one of our older girls. Regardless of who adopts our dogs or pups, we are very conscious of the homes we pick for our labs, and we consider you part of our extended family here when you bring home one of our dogs! 🙂 We love to receive pictures and updates like the ones above, as it keeps us doing what we do! The world of breeding can be tough and very emotional, but seeing the joy that these dogs bring their people and the face of a well loved lab makes it all worth it!