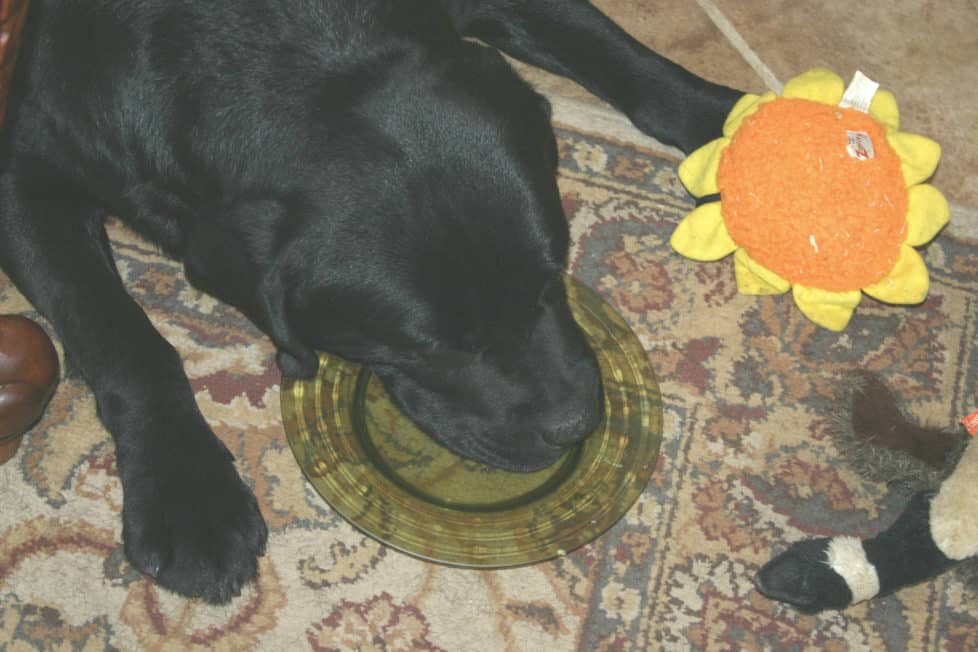 Feeding Your Labrador
Just about every day I get several people that ask me about feeding their Labrador. I must say, I find the most MIS-information on this topic than just about any other I can think of. And much of it comes from people with no understanding of the Labrador as a breed or its special nutritional needs. Nor do veterinarians have the knowledge and training to assist you in this area since most only get about 3 hours of education on nutrition in vet school. Anything besides that comes from dog food companies—which tends to be pretty jaded, as you can imagine.
A breeder is also not always the best place to get good education on Labrador nutritional requirements. Many of them use a food just because it is "affordable" for them, but not necessarily best for their particular breed. Price should NEVER be the issue. Ingredients are KEY! Many won't take the time or effort to search out the formulators of the food and each individual ingredient. I have. And so I have some pretty specific observations.
Having studied, taught, and advised on Labrador nutrition for almost 20 years now, I've seen just about everything. My head reels from all of the dog food recalls and the shoddy way in which many dog food companies produce, care for, and distribute their product.
Another thing to remember is that Labradors are technically a medium sized breed according to the AKC, so stay away from Large Breed Puppy Foods. These can cause them to grow too fast and put undue stress on those very sensitive growth plates that form up until they are 24 months old.
Here's a few things to consider when choosing a dog food:
*Do they ship DIRECTLY to you so that you can insure the food is super fresh when it arrives at your door?
*Is it formulated by a holistic veterinarian that understands animal physiology, species-appropriate feeding and makes decisions on ingredients for quality and not for profit.
*Does it contain phytoestrogens such as beans, legumes, chickpeas, or soy? This is the latest trend I see, and because legumes are NOT species appropriate, stay away—but realize, they are put in foods now as "cheap forms of protein" and if analyzed you'll come to the realization that the proportions of meat-based proteins are lower than the beans, therefore not species appropriate for canines.
*Does it contain corn, multiple grains, and potatoes? Labradors do NOT do well on foods high in starches/grains. They are cheap ingredients, but you'll find yourself nursing hot spots, cleaning up excessive shedding and spending tons of money in veterinary care for skin and coat issues as well as digestive issues. This can be VERY pricey and is the primary reason I recommend choosing a high quality food and saving yourself a lot of costs in the long-run.
Does it come with a money back guarantee if you are not satisfied?
Have you researched the cost not only 'per bag' but by 'per feeding?" Did you know that the highest quality foods on the market are actually cheaper to feed sometimes than the cheapest grocery store foods? Because they are high-quality and nutrient-dense you feed less, so your price per pound AND your price per feeding goes WAY down. See here for example
Are you using an "All Life Stages " food that gives proper amounts of feeding due to age, size and weight such as this:

Suggested Daily Amount (in Cups)
Weight
Puppy Less Than 6 Months
Puppy More Than 6 Months
Adult
1 to 3 lbs.
1/4 – 2/3 cup
1/4 – 1/2 cup
–
4 to 10 lbs.
2/3 – 1 1/2 cups
1/2 – 1 cup
1/4 – 2/3 cup
11 to 20 lbs.
1 1/2 – 2 1/2 cups
1 – 1 3/4  cups
2/3 – 1 cup
21 to 30 lbs.
2 1/2 – 3 1/2 cups
1 3/4 – 2 1/3 cups
1 – 1 1/2 cups
31 to 40 lbs.
3 1/2 – 4 1/3 cups
2 1/3 – 3 cups
1 1/2 – 1 3/4 cups
41 to 60 lbs.
4 1/3 – 5 1/2 cups
3 – 4 cups
1 3/4 – 2 1/2 cups
61 to 80 lbs.
–
4 – 5 cups
2 1/2 – 3  cups
81 to 100 lbs.
–
5 – 5 1/2 cups
3 – 3 1/2 cups
Over 100
–
–
3 1/2 cups + 1/3*
*for each 10 lbs. of body weight over 100 lbs.

If you are NOT using and "All Life Stages" dog food, you are likely under, or most probably over-feeding.
Can your breeder actually engage professionally and logically with you on dog food and demonstrate a full understanding about dog food ingredients, species-appropriate feeding, and the special needs for the Labrador.
In general, we recommend feeding your puppy or dog 2x a day. Upon waking a pup must go out IMMEDIATELY. Then feeding would appropriate. Then take them out one or two times again—you'll catch on to their schedule very quickly! The second feeding should be between 4-6 pm so puppy/dog has plenty of times to go potty before either being crated for the night or going to bed, thereby avoiding unnecessary accidents. Especially when crate training. Scheduled feeding times make for predictable potty times. A crate is a great place to feed your pup so that it does not get distracted, and cannot then go and 'free feed' the rest of the day and not be able to tell you when he has to 'go out.'
At Endless Mt. Labradors, we have always shied away from big box commercial pet food brands, preferring homegrown and reliable businesses that care about the product they are putting out, and the beloved pets that are consuming it. Too often these commercial brands end up outsourcing and cheapening their ingredients (especially the types of protein–replacing them with legumes which are not species-appropriate for canines)
We also know that what goes into your pet's body, is at the core of their overall health. Dogs are not meant to consume corn, soy, high amounts of legume proteins, or tons of grains. And many breeds (including our labs) "can" have wheat sensitivities which can lead to itchiness, shedding, and hot spots. So we've selected this particular food for this reason.
As Labrador breeders, we had to make a critical choice in foods, when considering the specific dietary needs of our breed. Labs are very sensitive to various food allergies, so it's very important that we save our clients and their pets from suffering the heartbreak of a sub-par diet that may plague their new family member with a multitude of health issues including allergies and GI issues.
With veterinarian Dr. Jane Bicks as the pet product formulator, Life's Abundance was founded almost 20 years ago. Life's Abundance All Life Stage Dog Food   also contains important pre and probiotics that aid in your dog's overall gut health and digestion. These key ingredients, including several other needed vitamins, also support your dog's overall immune system. This food is one of only two I know of that have never had a recall, nor stooped to using the latest, cheap ingredients as so many other premium kibbles have in the past couple of years. We've personally inspected their corporate headquarters, spoke with the company President and CEO, most importantly, its formulator, Veterinarian Dr. Jane Bicks.
The excerpt below is taken from Life's Abundance website:
"At Life's Abundance, we make healthy living easier with products that are inspired by nature and informed by science. With a focus on safety, it is our commitment to use as many natural ingredients as possible, to ensure our product's quality and efficacy, and to back it up with first-class customer service."
Choices of food, best to worst, in my OPINION:
*Best—a raw, species- appropriate diet from a reputable, veterinarian commercial raw such as BARF/Safari raw, formulate by Dr. Ian Billinghurst, DVM Benefits: small, non-smelly stool. Clean teeth—no tarter. No ear infections or skin and coat conditions to cost you tons of $$$$$ throughout their life. And raw fed dogs are expected to live into their 20'S! (Europe is so ahead of us on this)–use coupon code #1079 and get free food in your first order and get further discounts and specials!)
*Raw, homemade food (see Dr. Ian Billinghurst's book "Give our Dog a Bone") You can acquire the BARF plus mixture to add to your meaty bone mixture (link) Same benefits as the first option, yet much more time consuming and expensive. Be sure to have a mentor when attempting this yourself so you don't make the common mistakes of a rookie, or put your pet in danger.
 *High quality, freshly made kibble. One that preferably is made in small batches and uses high quality ingredients from the U.A. We highly recommend Life's Abundace All Life Stages (regular) –use order code # 20210230 to get up to 20% off your order along with other discounts and specials! (Call to learn more with this order code:  1-708-518-7288. (EST)
 ***********************
Personally, I have recommended one, and only one KIBBLE over the past 20 years of experience in feeding my Labradors. That is Life's Abundance. Labs are much too sensitive to food allergies and if you've bred and shown Labradors like I have for the past 30 years, you realize it's not worth skimping on food. It affects your dog's quality of life, longevity, and fertility. Trust me. I've had my share of skin & coat and ear issues with past foods! 
When I get my L.A. food it arrives at my door and has been made in the past 2-5 weeks and has not sat in a warehouse not monitored by temperature, sat on trucks in the heat, nor been on store shelves for months and months, thereby removing any fear of there ever being a recall…and BARF and Life's Abundance are the only two companies that have NEVER had a recall. That is priceless. So is your Lab's life.