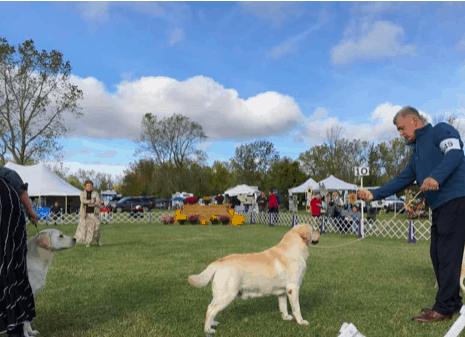 WHY BUY A DOG FROM A "SHOW BREEDER?" I JUST WANT A PET.
Many people that I talk to call us because they love the look of our dogs, they love the EXTENSIVE health clearances we do, and have heard lots of great testimonies. But inevitably, people will say, "but I don't intend to show, so I just want a pet."
Actually this is a CORRECT statement, and a good one…but I want to let you know how your PET benefits from us showing in a category with the AKC called "conformation" (measuring dogs to see that they "conform" to the breed standard put forth by the AKC for preservation of the breed). I know it looks like a "fashion show" on TV to the pet owner, but it goes so much deeper in making sure the FORM of the dog meets its FUNCTION. For instance, the AKC Labrador Retriever standard calls for a dog that can carry a large bird in its muzzle. So the shape of muzzle should be long enough and broad enough to carry that large bird with ease. It should also have a natural retrieving instinct, encouraged by our game of fetch to excite them, but be taught to have a 'soft mouth'!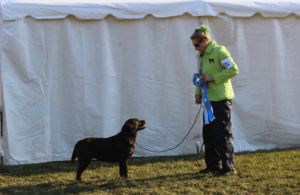 AKC standard also looks at the MOVEMENT of the dog as well, to assure that your dog is not knock-kneed, hocks turned out ("easy westy" we call it in 'dog talk'), cow-hocked, or barrel chested, impeding its movement. This improper movement—and as they move these joints for 15-18 hours a day, over a decade or more– can cause severe breakdown and deterioration/stress on the joints, causing expensive surgeries, early lameness (leading to early euthanasia) and of the course the pain and suffering for you and your beloved pet.
Why do I need to register my puppy PET with the AKC if I'm not going to show or breed?
-its funding registry for preserving AKC shows, education to consumers, mentoring, etc.
-tracks our pups with the prefix
-we register and own the litter through the AKC, then the new puppy owners individually register each puppy in their name.
-your registration payment actually helps fund the inspecting and regulations of AKC kennels to ensure the ethical treatment of all dogs. They also spend a lot of their budget on public education of dog care and training and even have a mentoring program for breeders now.
-when microchipping your pet, if you include their AKC information and use AKC's microchip tracking program, it can be an added security in reuniting you with your pet if ever needed.
Accountability:
This is the BIG one for me. When you begin to put your dogs in front of AKC judges and your peers (very scary) and become involved in local and national AKC dog club events, you are VERY accountable to people who have been breeding dogs for sometimes decades. Many of my breeder friends even had parents who were in the breed before they even had their own kennel, so there may be generations of families that have invested their lives into a breed they have a passion for. So it's also a good place for good information and to learn from other seasoned breeders, and others that are learning with you. Many who are now also licensed AKC judges as well. (For instance, getting a first place ribbon or a breed win from a "breeder-judge" is the most envied, and an achievement to be most proud of). Those are the the ones that are the perfectionists… and we need them keeping watch over our precious dog breeds.