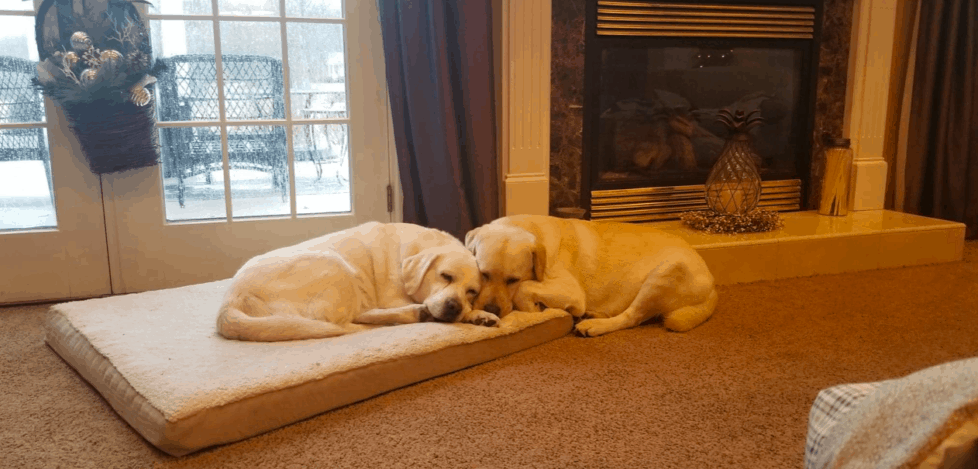 Therapeutic Beds for your Aging or Senior Labrador
This blog is rather personal for me, and I'm sure I'll have completed it having shed many tears in the writing of it. It just so happens that my dear Amy (a Romeo daughter) is almost 13, but is creeping into those senior years. Now, she still walks 2 miles a day with me and is doing quite well for an old gal. But I did many things right with Amy, and many things wrong. But one of the things that is on my mind now is that I want to do right by her is in getting her a GOOD, premium THERAPEUTIC bed. I've had dozens over the years—many I loved. I've even been given free, expensive beds as gifts from pet companies, but after all of those different makes, models, and shapes, I've come up with not only what I prefer in a dog bed (after reviewing and experiencing so many), but, also, what I have found AMY likes. (And quite possibly what your Labby Love needs as well)
As one who struggles with back and neck problems myself and knows the benefits of having the right mattress to sleep on—it can either make life bearable or absolutely excruciatingly painful. I also have scoliosis, so I know how important posture is as well. I happen to have many lovely friends who are chiropractors, so I tend to think about the skeletal system of our canine family members more than the average breeder, I guess. So in getting a bed/mattress for my dog, I want to be sure it is going to be comfortable for them in many ways, many of which I've learned from dog-loving, dear chiropractic friends, and from personal experience:
-It needs to have a good quality therapeutic mattress bottom, not just an egg crate foam interior. They break down in just months. A good, sturdy mattress you would sleep on yourself. (hey, if you have a Labrador, go ahead and try it! My daughter used to sleep on our dog's beds when she was a toddler–with a sheet over them– to watch TV on! She loved them!) So I've felt 'that' type of bed—and I had a lot of interaction with a dog bed manufacturer years ago helping them with their marketing campaign, so I've learned more about dog beds than the average person. But that means you and YOUR Labby get to benefit from what I've learned!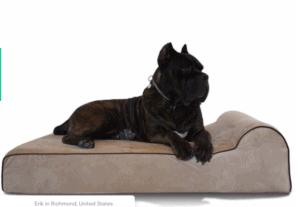 (Above: Ok, to be honest, this is the bed my daughter would sleep on as a toddler–"Bully Beds" is the brand– when she watched TV, it's amazingly sturdy and does have a place for your pet's neck to sit correctly. You can find this bed here.
-It needs to be "bolstered"—this gives the "surround" feeling that dogs love that makes them feel secure and relaxed. They can also rest their head on the bolster so their neck is in a healthy position that even my chiropractor could be proud of! Make sure they are solid, firm bolsters and won't wear out as quickly as the egg crate junk and leave your dog's neck out of alignment with its spine. Below is an example of a "bolstered bed."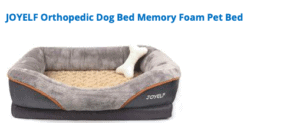 -It needs to have a sturdy, yet BREATHABLE material cover. If it does not breathe your dog will head straight for the tile floor and never return again. LOL. So take my word on this one! Plus, any premium bed will have a zipper to allow you to take the cover off and wash it when needed. Below is the type of cover I look for. Also, I like dark gray or brown color. Below is an example of a breathable type bed cover. Click on the dog bed to learn more about it!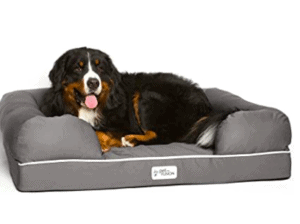 -It needs to be LEVEL. I know, this sounds weird, and you may never have thought of it. But we once owned a dog bed that cost over $400 and it was beautiful, soft, breathable, durable, and had a bolster—but the outside edge slowly wore out over time from my dogs stepping onto the bed, and after time, it rolled out, causing my dog's posture to be "tilted" when sleeping on it. We are replacing that bed, actually, as I write this! Amy will be thrilled! It will go right by the window by Jonathan's desk where she loves to hang out during the day and watch the bunnies, chipmunks, and squirrels run in the front yard.
Just a side note. Think of where you place the bed, as well, for your dog's comfort. I provide one by the window (which can be either hot or cold in the winter, both), so I also provide one in an area that is warm, and one where it is cooler…I even have a third in another area—just cuz I spoil my dogs like that—and like them to have a bed in whatever room we are hanging out in at the time!
****OH YEAH–and make sure your bed is BIG enough for your dog, or if you have two, for two dogs–but if your Labs are like mine (as you see in the photo featured in this blog), mine still try to squeeze in the same bed–BUT they both have their own beds and could 'technically' each have their own bed. Haha. 🙂