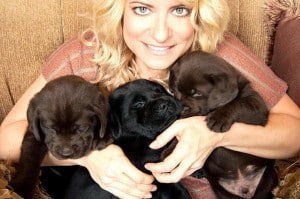 Since 1988, we have been a reputable breeder of AKC, English Labradors (stocky, large blocky heads) for family, show, and field. Labs are a wonderful breed, and we are proud to be a part of their history. We are determined to stay a small, private breeder so that each dog and each puppy can be socialized to be their best potential in the show ring, in the field, or as your fireside companion. We proudly present the consummate English Labrador.
Our breeding program strictly follows the guidelines of the National Labrador Retriever Club's ethical standards of breeding. All of our labs have sweet, quiet, teachable temperaments which has endeared the breed to so many of us over the years. High Intellect is also a goal of our breeding. We are proud to have had many of our pups enter the search and rescue forces all over the eastern US, as well as being excellent drug detection dogs for many police officers (having helped in large efforts, including 9/11).
Some have gone on to be great hunting dogs, and others as much loved "couch potatoes", baby-sitters, and family companions. Our dogs are blessed with calm intelligence and a "you walk on water" devotion. Some field champions are in our lines. Our pedigrees include champions in conformation, agility, obedience, some field (after all…Life is too short to hunt with an ugly dog!), as well as companion dogs and therapy dogs. Although our dogs are gorgeous to look at, the most important ingredient in our breeding program is TEMPERAMENT! We never keep and breed any dog that has anything less than a "perfect temperament". Therefore we really see consistency in our litters!
Some ask "do you only breed dogs for show??" The answer is no, we continue to try to produce the "all purpose" labrador, retaining its natural hunting instinct, and retrieving abilities. It's just that we ALSO concentrate on temperament, conformation (structure!), and sound genetic health clearances as well. This means our dogs could compete in "show" in either the conformation ring, field trials, agility, or obedience (any area you wish to enter them in) or they will perform for you at home in whatever capacity you need them to. They are well-rounded.
All of our dogs have extensive health clearances.  We feel that this is so important.  We do OFA on hips and elbows, heart, CERF, PRA, NARC, EIC, and CNM (see opening page of our site for more details)  NOTE: ALWAYS ASK A BREEDER IF THEY ARE DOING ALL OF THESE CLEARANCES…MOST SHOW BREEDERS DO NOT—THEY CARE MORE ABOUT A BLUE RIBBON THAN CLEARING THEIR BREEDING STOCK FOR GENETIC DEFECTS THAT YOU WILL SUFFER WITH LATER.  ITS NOT WORTH IT! (DON'T FALL FOR THE EXCUSE THAT THEY TAKE ISSUE WITH THE "VALIDITY" OF THE TEST–IT'S A SMOKE SCREEN!
We are best known in the conformation ring, due to the stunning looks of our labs.  We breed for lots of bone, substance, movement, blocky heads, thick (correct) coat, and otter tail.
Our kennel is 100% AKC approved, and we are inspected every 2-4 years. We ALWAYS pass with flying colors. We are also a "model" kennel for our state and even had our state senator visit our kennel because he'd heard so many good things about it.
The AKC is still the GOLD STANDARD of dog breed registries. If you run into any other (i.e. ACA, or similar), you can be 99% sure the breeder/kennel was inspected by the AKC, at some point in time, and was suspended (over the last 4 years the AKC has inspected every single breeder of AKC pups in the US, and continues to inspect everyone every 2-4 years!). Therefore, these offenders, run to these made up registries for those who are no longer allowed to participate in the AKC, either due to inhumane conditions, poor record keeping, or other inappropriate conditions for the breeding of dogs. We read about literally dozens, every month in the AKC Gazette, that get suspended each month. Hundreds of kennels a year.
Many people ask us what we do for a living.  I've even had people (who don't know us) say "they live in a mansion built on the sales of puppies."  (I hate to think that people are that quick to judge our character without really knowing our story!)
Years ago, when we began, we could only afford to care and house about 5-7 labs at a time.  By 2001, my husband and I began to do quite well in the real estate boom, and by 2005 we had saved enough money to buy 102 acres of land.  Over the next three years we spent time planning the layout of our house, specifically with our labs in mind, but we also needed business space for meetings for our real estate holding company. Then came the planning and layout of the kennel.  I'd visited so many kennels over the years, and I definitely knew what I did and did not like. We took money from our business ventures and set out to create a "lab utopia." Because we have so much land (102 acres) our dogs are never in small runs, they are in large yards with adequate shade…and even swimming pools in the warm months!  They are only in runs when we have bad weather, then they come into their kennels inside (w/heated floors and beds).
We continue to have our real estate investment company, The Sterling Group, which also includes many other sales and marketing/business ventures. Most of the money that comes in from our kennel goes right back into the dogs, staff, dog show fees, food, and health clearances, and also to our local animal shelter.
Of course, with the high demand for our pups, we have continued to enjoy our kennel and love the extended family that comes from the clients I have grown to know and love over the years. But aside from our kennel, we are financially independent. We do the labs because we love them, and we still can (although our 40+,50+ year old bodies tell us we can't many times! LOL!)
Jonathan, my husband, spends 100% of his time running our many business entities and being the accountant and financial planner of our estate. I spend most of my time with the labs, overseeing our kennel staff, overseeing our dog's show schedules, making choices about breedings, and hand raising our pups in a home/family atmosphere. I also spend my time with some online marketing that I do on the side because I enjoy it, along with my writing. And of course, we both parent our now, 17 year old daughter, Olivia. We love the outdoors, walking, traveling, eating out, reading and going to movies.
Well, I hope that's helped you get to know us just a bit! 🙂  And we look forward to hopefully getting to know you in return, as we help you find the perfect labby addition to your home and family!