Life's Abundance Adult Weight Loss Formula
---
Does your dog struggle with his or her weight? A dog's metabolism often slows with not only age, but especially after a spay or neuter.  Life's Abundance has a great, healthy weight loss formula for your plump pooch!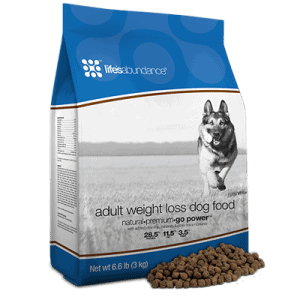 L-Carnitine to help the body utilize fat
Hearty proteins for firm, brawny muscles
Omega fatty acids for plush, full coats
Made in Ohio & New York
Description:
There's a big difference between feeling full and being nourished. Competing foods can leave your dog longing for something more, which compels them to overeat. Help your dog regain vitality with Adult Weight Loss formula, a premium food made to fuel active bodies and hardy spirits.
This weight management kibble is made with the finest ingredients, including …
• A proprietary blend of vitamins & minerals
• High-quality protein for muscle maintenance during weight loss
• L-carnitine to help the body utilize fat
• An antioxidant system including vitamins A, C & E
• A selection of nutritious vegetables & fruits
• Omega-3 fatty acids for healthy skin & a shiny coat
• Calcium & phosphorus for healthy teeth & strong bones
Since we use only wholesome ingredients, this formula contains …
• No artificial flavors
• No artificial colors
• No corn or corn gluten
• No wheat or wheat gluten
Compared to our original recipe, this weight-loss formula contains …
• Less fat & fewer calories to help reduce & maintain a healthy weight, as well as an active & energetic lifestyle
• Higher protein levels to aid metabolism & promote a lean, energetic body
• Enhanced with L-carnitine to support healthy metabolism & weight management
Adult Weight-Loss Dog Food offers robust nutrition with ample nutrients to put the pep back in your pup!
For adult dogs only.