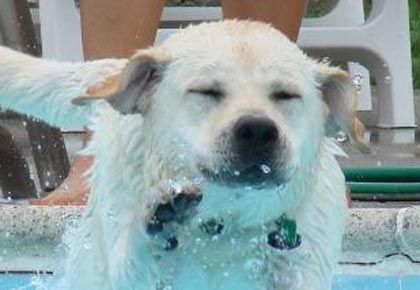 How to Keep your Labrador Cool in the Summer!!!
Looking forward to that Summer sun and heat??? Here are a few ways to help keep your lab cooled off and happy this Summer! Remember, the Labrador Retriever was originally bred for some pretty cold temps.
1. Go for a Swim!
Labs LOVE the water! Most of them anyway… you have to start them young! Pools, ponds, lakes, bays, whatever you have access to!  Even if you just go out and get a plastic kiddie pool (or labby pool?), they'll appreciate it!  And remember, swimming is a GREAT low impact exercise for your dog's joints!
2. Refreshing frozen treats!
Try filling a Kong with some plain yogurt or mashed bananas and then freeze it for a nice cool treat on a hot day! 🙂  Not only will it cool them off but it's a nice down time snack, especially for a young pup!
3. Keep that water dish full!
If you're outside with your labby, soaking up the sun, make sure you ALWAYS have some water available to drink!  Ice cubes are a nice way to keep that bowl of water cool, and they double as icy treats! 🙂
4. Grab the garden hose!
No pool available?? Grab the garden hose! This is also a trick to help when your lab is shedding out their coat this time of year!  Hose them down at night with some cool water, I can guarantee they'll love you for it! You can even get creative and make some doggy sprinklers. 🙂  Kids love it, why wouldn't they??
BUT…for those that don't have easy access to a pool, pond, lake, ocean or creek, a cooling towel is an EXCELLENT thing to keep on hand-I know—I've watched AKC professional dog handlers use this for 20 years. You soak it in cold water and place it over your dog. There is a fastener to keep it from slipping off. Check it out here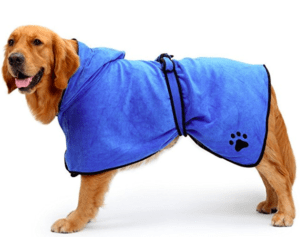 (Keep one in the trunk of your car for that day when you are stuck in a hot area or end up at a soccer game or something…
In addition, I LOVE "Cooling Pads"–this one is very inexpensive and can be used many, many times.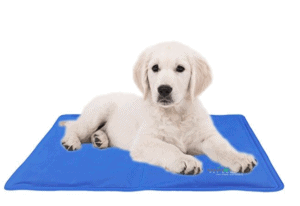 Here's how they work:
 The mat will keep the pet about 10-20 degrees cooler. With the humanized technology applied in pet product, it can prevent overheating and discomfort and help your pet relax and chill. The cooling comfort can last about 3 – 4 hours per-use time.

Be Assured Use by Safe Guarantee – Manufactured with non-toxic material, the pet is safe for the pets as well as the people and environment. The mat needs no battery and electricity. And it will recool automatically after 30-minute of non-use.

Feeling Good at Anytime & Anywhere – The cooling mat is portable and can be used in multiple scenarios, such as travel in hot weather; outdoor activities like training in camps, playing in parks; at home on the floor, couch, in the bed, crate and kennel, etc. It's definitely the best companion for your pet in hot days.

Easy Clean-up and Maintenance – The Mat is easy to clean with a simple wipe down. Mat is water-resistant and can be folded compactly for storage. It is very durable and can be used for a long time. The mat is suggested to be kept in dark and dry place. And if the weather reaches an unbearable point, you can also put the mat in the refrigeration for 1 hour before use, which can bring your pet better and cooler experience.

Size Option – 4 sizes are available. Please check the data of length/width in the size chart.