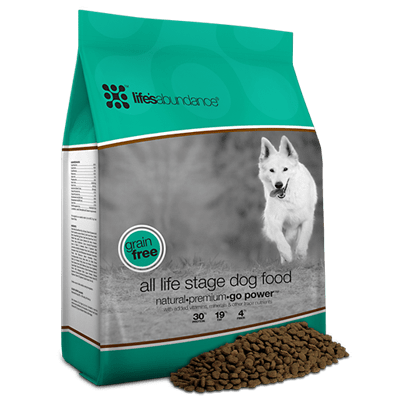 Life's Abundance Dog Food
For the past 2 months we have been furiously researching a replacement food for the Flint River Ranch brand that closed this month. We got a "heads up" in early December that there may been a possibility this would happen, so we were able to get a "head start."
Almost 16 years ago we were deciding between Flint River Ranch and (at that time) a new company called Life's Abundance when we were researching a food specifically formulated for LABRADORS,. We took their specific nutritional needs into consideration when doing this. The only reason we chose FRR, at the time, was they were a little bit older of a company. Now L.A. is almost 20 years old and is also now employee owned and is NOT GOING ANYWHERE.
We booked a trip to go visit the company in Florida and met and spoke with every single department head. Then in Febraruy we went and spent a whole week with the entire staff and also the veterinarian who formulated Life's Abundance products, Dr. Jane Bicks (DVM). I also met their other staff veterinarian, Dr. Sarah Vooman, DVM. How refreshing to meet veterinarians who actually understand canine and feline nutrition.
We combed through every single ingredient in the food and treats, asked questions, and got thorough, scientific answers for every single choice this company makes in formulating each and every product, especially the food. We were SO impressed that we both said to each other, "Why didn't we go with them 16 years ago?"
Well, FRR served us well, and at the time, it was the only food we felt comfortable recommending and using ourselves what with all the premium dog foods that "use to be good" going down the toilet as far as ingredients, and the recalls we see every day. But now that we have the knowledge and this door has been opened, we feel absolutely comfortable and excited to have something to offer to our beloved clients and EML family.
Life's Abundance Dog food has NEVER HAD A RECALL!!!
(This is one of the reasons we loved and trusted FRR for so many years!) i had a breeder friend that lost dozens of dogs in the Diamond Dog food scare years ago, and since then, I decided I can NEVER be too careful when choosing a food for my dogs and my client's dogs!!!
We are recommending the "All Life Stages" food. You will also want to take advantage of their GREAT VARIETY of treats. FRR never really had much of a variety to choose from. And the ingredients in these are SO much better.
L.A. food is also baked in a special way to break down the molecular bonds in the ingredients to make them more digestible for your pet. (I heard the whole scientific explanation from Dr. Jane about this, but I'm trying to regurgitate it so the layman can make sense of it!) It basically puts it in almost a "pre-digested" form, so that your pet will get more out of your food than they've ever gotten before. So, for instance, even pets who seem to display food allergies to some protein sources CAN digest this particular formula. And from what Dr. Jane explained, its not usually the protein source that pets react to, but the other ingredients or treats that owners are giving their pet, other than the food.
The quality control is second to none, and I stood in the warehouse myself and I was taken through and shown exactly how they do it. I met the man overseeing all of the shipments and the staff working in the warehouse. Everything was 100% amazingly professional and top notch. The entire place was pristine. And they are NICE people too! They really CARE about the pets and the pet parents, not just making money. That really came through in everyone I talked to.
And the good news is that I have the ability to contact the formulators at any time and speak with them directly and get answers for you if ever needed!!!
Customer service is trained very well in this company, and will be very helpful to you whenever you need to call with any questions or concerns.
Be sure to choose the "auto-ship" option when you call to order, and receive up to 20% off. For a typical lab, 40 lbs every 40 days is all you will need to do for setting up your auto-ship. They offer flat rate shipping on the dog food, and also a very low shipping cost should you ever order add-on products like treats or other products, separate from the food, at only just under $5.
Click here to view a Dog Food Comparison between FRR and LA
What I would recommend NOT to do:
1) If you were using the FRR Trout and Sweet Potato, don't go looking for another Trout formula on the general market. I tried. I could not find premium ingredients, and there were tons of GMO's, phytoestrogens and fillers that wreck havoc with your pet's hormones and thyroid causing all kinds of allergic-type reactions. Instead, I'd recommend the All Life Stages formula which contains FISH and all its wonderful benefits that you enjoyed with FRR. (you could also add the L.A. Fish Oil to your monthly order to add to your food!)
2) Don't go to the grocery store for a food. As a rule, any grocery store's foods are at the bottom of the list when it comes to quality! They are the worst! I call it the "Twinkie aisle!"
3) Don't just jump to the food your neighbor or best friend uses or the one with the "cutest, healthiest" looking dog on the bag. Most of the premium dog foods that WERE GOOD have cheapened their ingredients over the past 2 years. I regularly walk into food supply stores and read labels and track these things (ingredients on dog food advisor and other sites are outdated). I'm astonished at the terrible things being put in pet foods. Tons of GMO's, phytoestrogens, cheap "meals", and animal "fats" (that could be discarded restaurant grease!), and tons of fibers that cause loose stool. And they change these ingredients without notifying the consumer. Also, your neighbor and best friend may not be educated about canine nutrition (most Vets only receive a couple hours worth of nutrition training!), and they many not know the specific needs of Labradors
4) Be wary of your vet recommending a food. The only education they hear is from the dog food reps that peddle Science Diet and the like, which is at the bottom of the dog food ratings if you search online. Did you know they won't even give out the ingredients in Science Diet food to the Vets, let alone the consumer?
Please email or call us with ANY concerns. We will answer you as quickly and thoroughly as we can, and if we don't know the answer we will find it from the company or the staff veterinarians at Life's Abundance company headquarters.