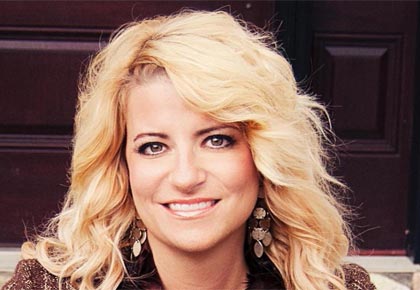 Me and my Labs!!! (a brief history)
 Me and My Labs!
I purchased my first lab in 1988 and was smitten with the breed.  I had a couple other dogs before that but did not care for their temperament as much as I did my lab.  I contacted Sally Kelly (Kelleygreen Labradors) in 1989 when I was looking for another lab.  I fell in love with the look and temperament of her labs.  I did a few litters in the 90's and as most, started out as a backyard breeder. I loved the labs and the pups so much since I was not allowed to have dogs growing up.  I was in 'lab heaven.' We had about 5 labs total at any given time.  We sold our pups to families in our area or to friends and family.
After being approached by a few show breeders about showing in conformation, I began attending handling classes sponsored by our local kennel club.  My interaction with that club spurred me on to learn more and improve my bloodlines. Although I'd been complimented on my labs, I knew it was like starting all over again.  I'd been mentored a while by Sally Kelly, then a gal in my church who showed Bouvier's.  At the same time I began to take handling classes, I met Tana Carpenter (Carowby Labradors) and we hit it off.  I got several of my foundation stock from her, then when she retired, she sold me her entire kennel (other than a few she kept for pets). She was immensly helpful to me and I learned so much from her and owe her a debt of gratitude!
Initially, I concentrated on improving my chocolate labs, as I felt this part of the breed was lacking in the show ring.  I had blacks and yellows as well.
In 2001/2002 (?) I hired Rusty Howard as a handler, upon the recommendation of Tana Carpenter. Rusty helped me, in the beginning, to weed out things in my labs that were still sub-par.  I bred a litter in 2003 and sold a choc puppy to Cheryl Curtis (Erinhill Labradors) and he became my first champion.  His name was CH. Erinhill's Guinness Stout ("Keg"-pictured below)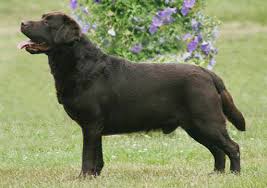 I began to be familiar with Vicki Creamer through Tana Carpenter, and got some labs from her as well, and she was very welcoming to me within the lab community and I have appreciated her friendship and support through the years.
In 2005 I purchased a bitch from a friend's litter and gave her to a friend who was beginning to show as well.  I recommended she   breed the bitch to GCh. Borador's By George and I'd like a puppy in return.  That was my GCh. ML Endless Mt. Romeo.  Romeo and his brother, Lear, finished their titles in under two years. I also got my "Maggie" out of that same repeat breeding. What a great litter!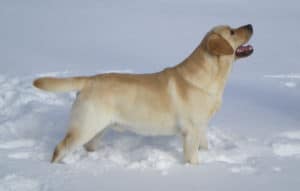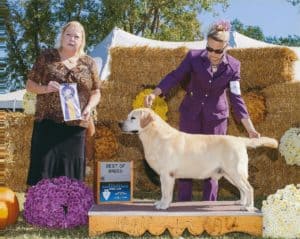 (Best of Breed at Wine Country under judge Vicki Creamer!)
In the meantime, I'd become acquainted with Jenny Mitchell of Tealwood Labradors.  She was very kind to me and a great mentor.  I purchased a chocolate bitch from her and bred her to Ch. BIS BISS Am/Can Ch. Winterwind's Glenn Plaid.  I kept two bitch's, one of which is my Ch. Endless Mt. Mecca ("Mecca"), who finished her title when she was 3.  She also won BOB at some large specialties in the NE. Mecca is pictured below: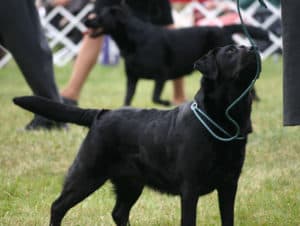 One of Tana's bitches, who was 6 mos old when I purchased her ("Dreams"), produced a litter out of Adventure O' Bam Bam at Kresland when she was 3 years old. Out of that litter, I kept GCh. Endless Mt.'s Mack Truck ("Mackie") who finished his title at 3 yrs old.  His first major was as WD at Potomac 2009!  The British judge, David Craig, described him as a young Ch. Kupros Master Mariner (oen of the most influencial stud dogs in the history of the Labrador breed). His second major came shortly after that and he finished his championship title then cruised right through to his grand championship.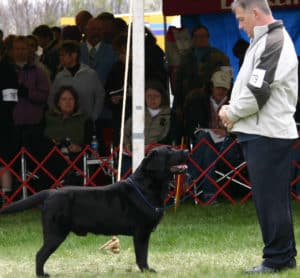 (Mackie going "Winners Dog" at Potomac 2009–left)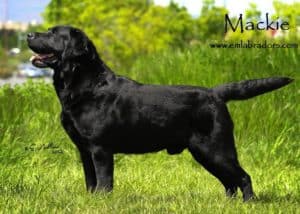 I obtained a yellow bitch (Nike daughter) from Vicki Creamer and bred to Gordy (Ch. Boradors' By George) and kept a yellow dog, Ch. Endless Mt.'s Shakin' Things Up (Groove) who finished his title handled by both Rusty and Jen Howard and Kathryn Mines. I bred the same bitch the following year to Ch. Wiscoy's Robin and kept a yellow (!) male, my GCh. Endless Mt.'s Scotland Yard (Scotch), handled also by Howards and Kathryn Mines. He finished his title in 2011.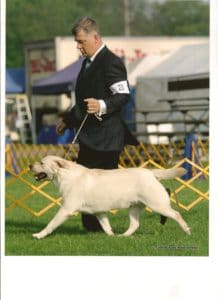 (Groove- above)
Most recently we finished our CH. Endless Mt.'s Shines Like Sterling ("Sterling") this past year, and he has several points toward his grand championship and will finish that shortly.
Meanwhile, we are working at finishing the titles on CARSON, R.B., and REIGN. See our "Stud Service" page.
I have not shown many dogs this year as I have been finishing up a novel that I've been working on the last 3 years.In the meantime, I have started to work on my judge's license and just finished judging my first two AKC sanctioned matches.
In the meantime, I am enjoying our Labrador family, and mentoring new lab fanciers. I live in the Endless Mt.'s, just south of Elmira, NY with my husband Jonathan and daughter Olivia. I will continue to pursue my judge's license in the Sporting Group for now.