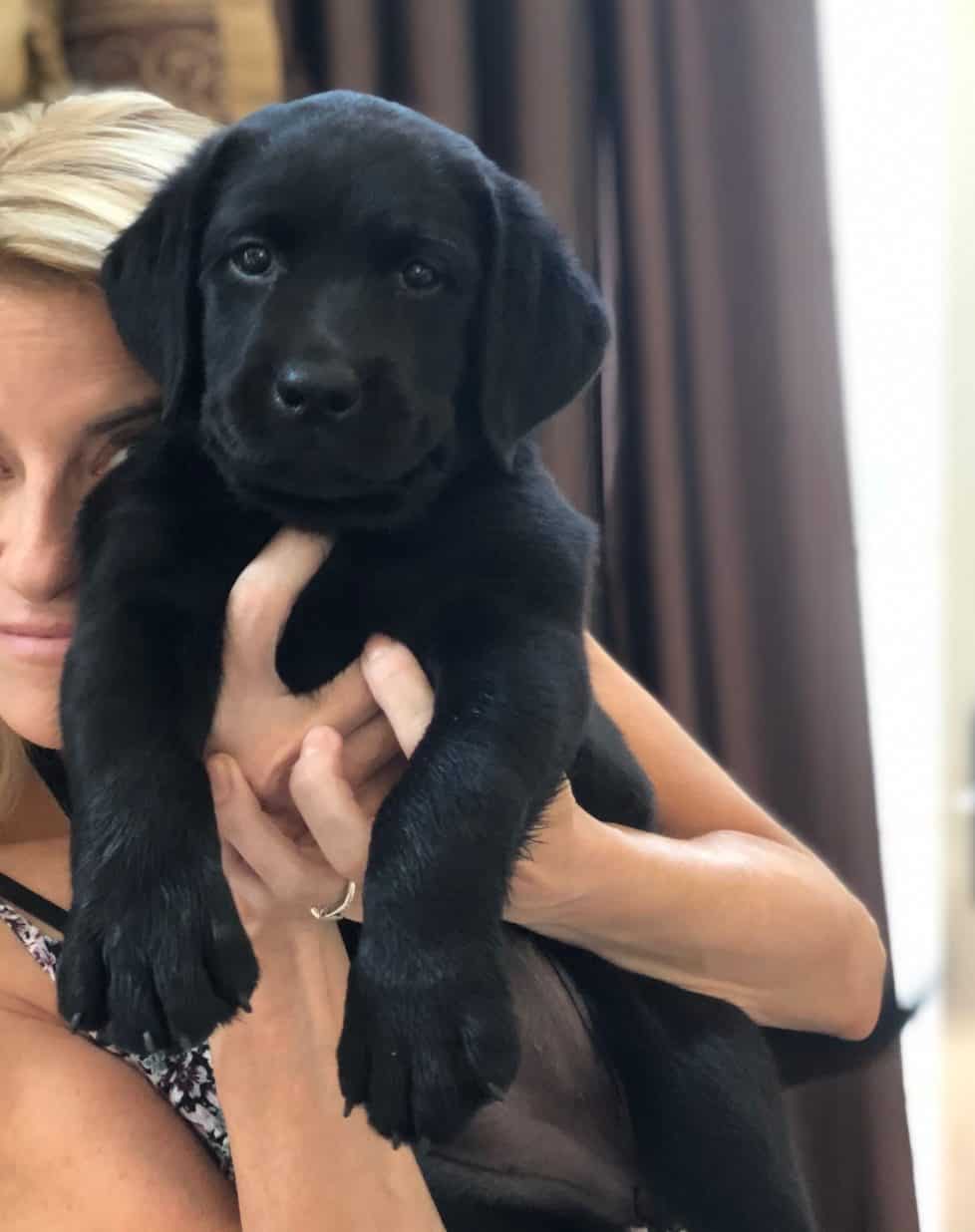 How to Choose a Puppy
Picking the Perfect Puppy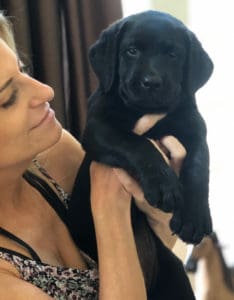 Choosing to add a puppy to your home is a huge and rewarding decision. Choosing which breeder to adopt a puppy from is an incredibly important part of this decision (see Chapter 3). And choosing which puppy to take home… Well, if you've never adopted a puppy before, you're probably feeling overwhelmed.
I remember a weekend when we had a litter of eight pups meet their new families and go on to their furever homes. There were five girls and three boys in the litter. Watching each person interact with the pups and try to make their decision was entertaining, to say the least! I watched every family struggle to decide which puppy was meant to be with them—looking, asking for a sign! Because, let's be honest, all of these puppies were exceptionally cute.
It All Starts with the Breeder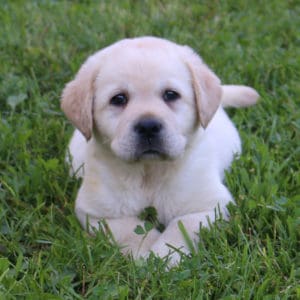 Here is the secret to picking the right puppy:
Pick the right breeder.
When most people meet our litters, they discover that our puppies' temperaments are consistent. A reputable breeder breeds for temperament; that is, she makes sure her dogs have a friendly, gentle attitude toward all types of people and are well behaved in a variety of situations. It is not like meeting a litter of pups advertised in a newspaper ad, where the spectrum of temperament is all over the place.
Now, the puppies' personalities (that is, whether they're energetic, laid back, or any of a dozen other personality types) may differ, but their personalities will also continue to be shaped and molded in their new homes. Puppies' personalities take shape during the first sixteen weeks of their lives. The breeder spends the first eight weeks training and socializing the pups. Your puppy will spend the next critical eight weeks with you, and you need to continue the training and socializing that the breeder started. The big difference is the environment in which you work with your new dog. After he's home with you, your puppy will need to adapt to your environment and learn how to behave there.
Selecting Your Pup from the Litter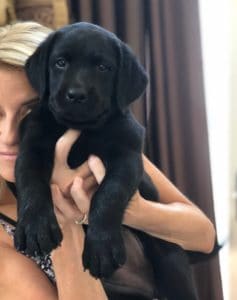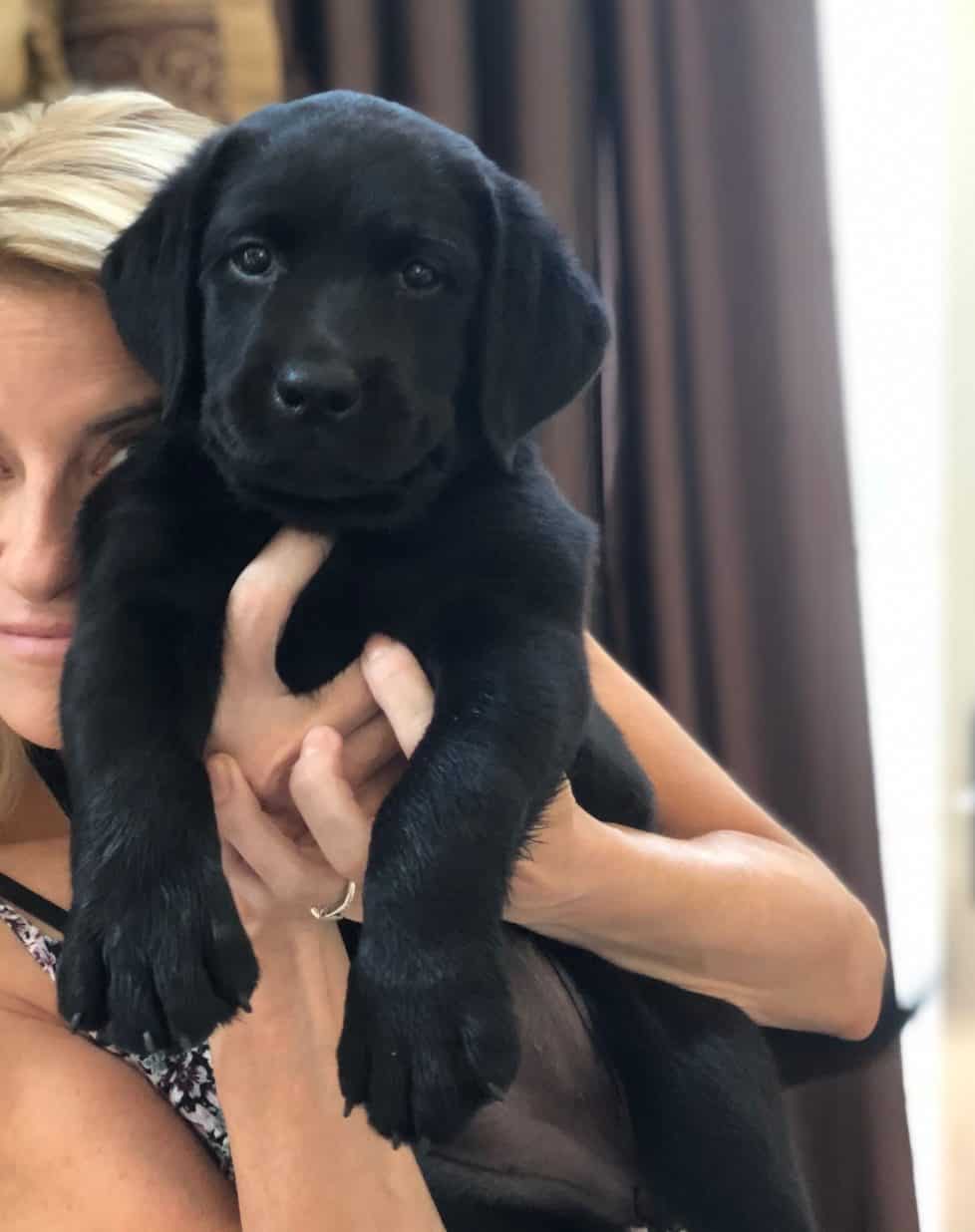 Everyone has their own method of picking their pup. Some people want my input, and I can tell you which one I would keep based on show potential, which one might make a good service dog, or which one might be suited to be a hunting dog.
Other people let their children pick the puppy (though I'm cautious with this method because Mikey will inevitably decide he likes a different puppy than the one Susie likes!). Most of the time people choose the puppy who seems to stick right around them as they sit and play with the pups. Sometimes a certain set of eyes will forever melt your heart and claim you.
The pictures below show the Wilkinses trying to decide which of the five yellow girls was to be their Gracie. The challenge was more than they anticipated! But they finally, somehow, narrowed it down to one. There was something about the way the puppy they finally chose looked at them and held eye contact when I held up the two girls they were trying to decide between. She stole their hearts.
I often hear that someone is very particular about having "pick of the litter," or they want to have a choice between pups. To clarify, the breeder will always have pick of the litter, unless, for some reason, they are not planning on doing so. They will usually know this by the time you are placing your reservation.
I also take reservations based on color and gender. So if you requested a chocolate female, you may end up with first pick of chocolate females in the litter, or you may end up with last pick of chocolate females in the litter.
The nice thing about getting a pup from an AKC Breeder of Merit is that getting the last pup of the litter is like getting first pick in any backyard breeder (BYB) or pet shop litter. And remember, even the last pup needs a family. If that weren't so, we'd have a lot more unwanted pups in this world.
I can't tell you how many times the last pup ended up being, in my opinion, the nicest pup in the litter. It's funny how things turn out that way. But I truly believe that each pup will find its family, and each family will find the pup that was meant to be theirs. (I've even prayed about this particular desire before a litter is ready to go home!)
I have never had someone feel uncomfortable taking the last-pick puppy. I even commonly have people say, "Please don't make me pick. Just give me a puppy!" This is usually because those people realize there is no wrong choice. And that, folks, is the bottom line.
There is no wrong choice.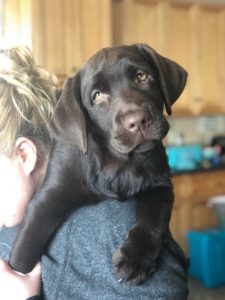 (Not when you've picked a good breeder.)
Pick the puppy who seems to make her home in your lap. Or can't stop giving you kisses. Or pulled the puppy collar right out of your back pocket (yes, I've seen this happen!). There is no special formula to picking the puppy meant for you. Sometimes it's a coin toss and you would be perfectly happy with any of the furry loves romping at your feet. Sometimes the puppy doesn't give you a choice and clearly picks you. I promise that you will love and cherish this pup, and she will live her life with you as though you were the one meant for her.
Size Genetics: "I Want the Biggest Puppy!"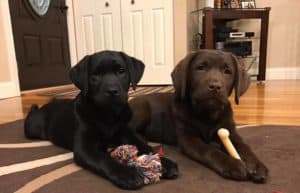 A dog's size is based on genetics. It is not based on the size of the puppy at eight weeks of age. This is why I tell my clients over and over, do not pick your puppy based on the size. Do not worry about which puppy is larger and which puppy is smaller. Pups grow and develop at different rates, just like children do. Think about infant birth weights; will a 9-pound baby necessarily be bigger than a 6-pound baby as an adult? Not at all! A bigger puppy does not equal a bigger adult dog.
Pictured above are two black female pups from Erica (Endless Mt.'s Black Sphinx) and GCH Endless Mt.'s Mack Truck, Mackie (one of the largest dogs in our kennel!). The little one, Abbey, was the smallest of the litter. Not all eight-week-old puppies are the same size. Countless factors affect the size of young pups—the richness of mama's milk, the size of the litter, etc. And like I said, puppies grow at different rates. Abbey was, however, the biggest sweetheart! (We all doted on her because she was pocket-sized!)
When it's time to pick your puppies, remember: Never be concerned with the size. We breed in Lab standard, and our pups grow as they should.
The Importance of Paying Attention: Don't Be a Ms. Leaky Mouth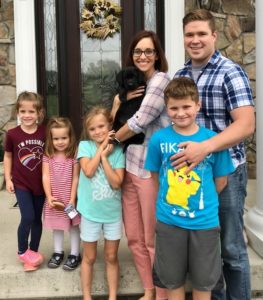 Above: The favorite part of my job:  Matching families to their new canine family member!
Listening to the instructions given by the breeder or the shelter when picking up your new dog is crucial to making the first weeks, months, and years successful for both you and your new canine family member. Which brings me to an experience I'll never forget.
It's another Saturday, and I'm anticipating the arrival of a woman who is taking a pair of puppies with her—one male, one female. She's super-friendly on the phone and seems wonderfully prepared to provide a stable and love-filled home for two of our babies. It's her arrival that triggers chaos.
A silver SUV with tinted windows arrives, and two men in dark aviators step out of the vehicle along with a sixty-ish woman dressed in a sequined top, white pants, and sandals. (Don't worry, its not the wonderful woman pictured above!)
I've already been informed that the puppies will be flown by private jet from my local airport to the future owner's home. It all sounds like stress-free travel for the two pups.
As the woman and the guys with the shades enter my house, the air seems to buzz with an energy I've never experienced. The woman talks loudly and boisterously in her excitement to meet us and her new additions. I'm enthralled, yet somewhat unsettled. I can't quite put my finger on why though.
As she talks, I attempt to jump in and move her to the kitchen. The two gentlemen race around her in the background, handling bags, two pet carriers, and the lady's personal items. I attempt to greet them, but they pretend none of us exists and give a barely noticeable nod.
I manage to get the woman to the puppy room. Thankfully the process of picking out which pups she is taking is uneventful. She chooses two beautiful, very light—almost white—yellow lab pups.
We leave the pups in the puppy room as we proceed to my office where my assistant, Lindy, is waiting to help with the paperwork and instructions for the days, weeks, and months ahead. It usually takes anywhere from a half hour to an hour to go through the last-minute questions and important information such as the AKC registration papers, health record, details regarding the puppy's parents and their health clearances, and recommendations on food and housetraining, as well as tips on further socialization of the pup after it leaves my arms.
As I attempt to get Ms. Leaky Mouth to take a seat in front of my desk, she babbles on and on about her three homes as she flicks her mobile device open and proceeds to show me pictures of all of them!
She's talking a mile a minute, and Lindy shoots me a deer-in-the-headlights look. I return it with what I imagine is a Puss in Boots cat-eyes type of stare. I search Lindy's face for some sort of encouragement, but she's just as flabbergasted as I am and taken back by the "buzz;" the Sunglass Guys are still rushing here and there doing—I'm not sure what they're doing, to be honest. Meanwhile, Ms. Leaky Mouth is still jabbering about her vacation homes and opens her iPad to show us even more photos.
I'm trying desperately to send body language that conveys, "Sit down and listen to me, lady! You've taken up an hour already, and we have another half-hour to go over information regarding the pups. Remember the pups?"
I finally hand the paperwork to Lindy, who begins to fill out the blank sections and necessary information, as I attempt, once again, to refocus Ms. Leaky Mouth.
Honestly, I'm not sure she heard a thing we said. Almost any new idea took her into Squirrel! mode.
Here's what I want you to take away from this story: Because this final meeting with the breeder is so important to make your puppy's transition from the litter to your new dog pack a smooth one, I implore you to take the time to listen to whomever is handing you your new dog. It could mean the difference between weeks or months of frustration or weeks and months of an easy transition for you and your new fur baby.
To learn more, visit our Youtube channel entitled HOW TO CHOOSE A PUPPY
"…Grieve not, nor speak of me with tears, but laugh and talk of me as if I were beside you…
I loved you so—'twas Heaven here with you."
–Isla Pachal Richardson