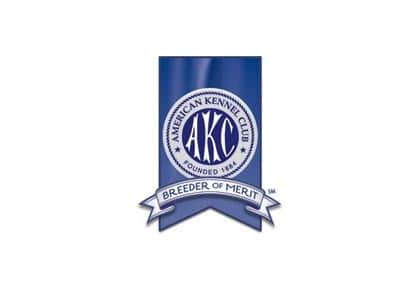 What is an AKC Breeder of Merit and Why Should I Care?
You may have seen the symbol below on our homepage. This shows that we are an AKC Breeder of Merit.  You might be thinking… yeah, so what?  But, truth be told, this can assist in helping you narrow down your list of breeders…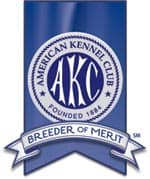 In order to be a Breeder of Merit, a breeder has to meet the following standards taken from the AKC website:
" Requirements
Has a history of at least 5 years involvement with AKC events. (we have 18 years of showing, 31 years of breeding)
Earned Conformation, Performance or Companion event titles on a minimum of 4 dogs they bred/co-bred. (we have many dogs (see our home page) that have achieved Championship, and Grand Championships…and many have been in the top 35 in the breed in the US!)
Member of an AKC club (local or parent club). Its a brutal screening process to become accepted. We have been a member of our club for several years and also serve on the board.
Certifies that applicable health screeningss are performed on your breeding stock as recommended by the Parent Club. (For labradors that is CERF, OFA (hips and elbows), Optigen, PRA, EIC, HNPK, NARC, Heart (by echo doppler) and CNM.)
Demonstrates a commitment to ensuring 100% of the puppies produced are AKC registered.
What all of this basically shows, is that the breeder has a record of caring about health and conformation, for generations, in their dogs.  I can guarantee you that no puppy mill is showing their dogs in AKC events–and they certainly are NOT achieving titles like Grand Champions. Many BYB are the same…so ask many questions…and feel free to use our "How to choose a breeder" blog when screening breeders of Labradors.
AKC Breeder OF MERIT PROGRAM inspects all AKC kennels, including AKC breeders of merit, and have closed many kennels over the past decade that did not conform to standards. Along with the state, we are expected regularly to ensure our kennel meets the highest requirements required.
An AKC Breeder of Merit is not a "endorsement" by the AKC, but rather an "achievement" that they use to motivate breeders to be the best of the best and to compete actively in AKC competition which keeps you accountable to your peers and to myriads of AKC judges.
We are proud to say that not only do we care about health and conformation in our dogs, but we also have focused on great temperament for over 30 years… That's something only experience can get you.
Endless Mt. Labradors