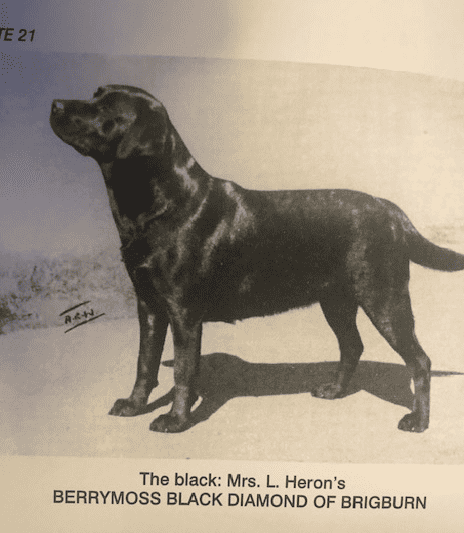 Are BLACK labradors the only "TRUE" Labrador???
Well, if I had a dollar for each time I heard, "Blacks are the ONLY true Labrador" among the most elite breeders, ringside….(blah blah…) I can say I had to research, scientifically, and experientially (amongst our founding breeders in the US) if this was at all true! Almost 36 years ago I began to research breeding Labs and bought the books I felt would help teach me the secrets of the old breeders that originally developed the varieties we see in the AKC. So many times I go to the "old books" and WALLAH, the old wise breeder SPEAKS! Oh how I treasure their decades and lifetimes of experience and knowledge!
Little did I know that one of the books I purchased, REACHING FOR THE STARS ("Advanced Labrador Breeding") way back when I began breeding, was a book I saw auctioned at our yearly Labrador World Specialty. (The Labrador Retriever Club of the Potomac) for $1,400.00 30 years later! It's rare, it's not been republished, but we ALL know, in the breed, that this is our LABRADOR BIBLE!!! I just searched it on Amazon and found ONE copy at $119.00!! This book, along with many others like THE BOOK OF THE LABRADOR RETRIEVER published in 1995, REACHING FOR THE STARS ("Advanced Labrador Breeding")  was published for the last time, its original publishing date was (???), and the last reprint being during the year 2000, where a limited 500 copies were printed of which I own #219 of 500! (Oh I treasure the copy!) I would not sell it for ANY amount, by the way, so no offers! 🙂
Although many of us breeders have learned so much over the years and with new-fangled technology having been of such help to us, it's the JOB/ART of breeding that we can't lose (and if you are new-listen up to the older, seasoned breeders!)—and so many of us glean SO much information when we go back to the old breeders and remember WHAT they were doing, what features they were reproducing, and what things we need to major on and not get distracted or "kennel blind" about. And of course, I must remind you, much of the history of the ENGLISH Labrador is given here. The brits love to both exhibit and work in the field with their Labradors (And as we produce, a truly "all-purpose" Labrador!). Even the Queen herself had a kennel of Labs, named, "Sandringham Labradors." (Learn here on our blog of Her Majesty's Labrador Kennel!)
In fact, certain judges won't "put up" (or give a ribbon) to any other color than BLACK—there I said it out loud. (!!) Many will whisper it to their closest confidantes, but won't admit it—lest they lose judging assignments as 50% or more of us of course would never show up. But does this theory hold water or is it an 'old wives tale?' Let's delve into the origins and features of the Black Lab and what the old, seasoned, Top Breeders–new and old– say!
Let's start with what Mary Roslin Williams has to say, the 'queen' of the Labrador Bible, "Reaching for the Stars." (remember she judged for decades as the breed was being developed and extended her influence to this day!)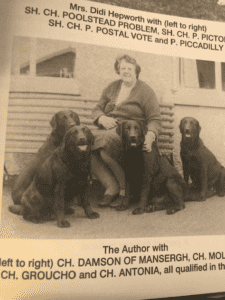 'Having dealt with the various unorthodox colors, some considered "all right" by the older Labrador Breeders, but some unwelcome and indeed obviously wrong, I will say a little about the recognized colors of today –remember that the Standard says 'other whole colors permitted.' Starting with the black, there is little to say except the blacker the bloodlines the more inclined to a brownish tinge when casting the coat, and also the heavier and more correct the undercoat the duller the black. The really jet-black, extremely shiny blacks seldom have much undercoat at all, (but is proper all the same if the breeder is breeder proper coat thickness and texture-Donn). But even the black with the brownish tinge must never be marked like a black and tan Gorden Setter. …the "brown'" blacks when casting coat, they will be the very opposite and their heads, legs, and tail will remain black, just the places where a black and tan dog is cloured red or tan…Grey or white thumb marks on the heels of the blacks always denote an excellent coat and very good type. I very much like those on my blacks and also look for and welcome the white roots to the hairs on my black top-coats, especially one-third of the way down the tail.
 Lady Howe (According to Ms. Williams) wrote in Our Dogs, "…as for the mousy or grey coloring in puppies, this always denotes a typical Labrador coat. My Banchory Danilo had grey flanks and quarters when young. In the best strains other roots of the hair on the tail are often white."
 Mr J.C Severn also writes "All the best Labradors I have known (black) have had a mousy undercoat and many of them show a large amount of grey at the root of the undercoat." (Mary mentioned she also agreed with this) Later we'll continue this series and talk about the first "golden colored (yellow)" Labrador that made its showing circa 1848, who's name was Bernadine. (FUN LABRADOR FACT!)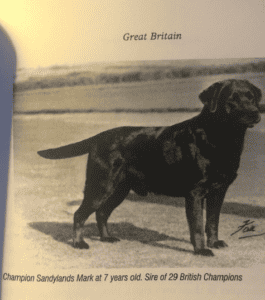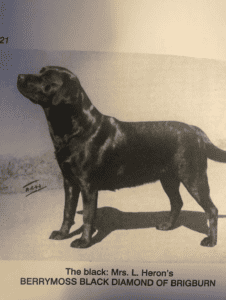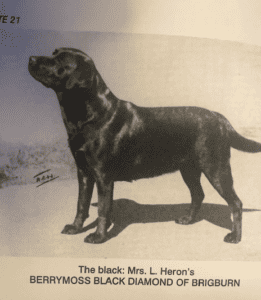 I'll just insert my own experience here at the end. Donna, here. I have heard the "blacks are the true Labrador" for 36 years. I've heard it ringside. I've heard it from show handlers. I've heard it from judges (and when questioned, was admonished, and told, "don't let that get around, I won't get judging assignments!"). Yep—I swear, one of the most influential breeders I know said that to me. So is there bias? YES!! Are there yellows and chocolates that can go toe to toe with blacks in the ring TODAY? YES! I have spent MY mission as a breeder to bring chocolates, specifically, to a competitive level in Labradors. I've done it. And I'm proud to have put grand championship on blacks and yellows, and championship on my chocolate. (Ok, so yes, my most successful labs in the SHOWRING were blacks… ok, I give up on that… but it's not very scientific! –hear my laughter!) Here's just a REALISTIC theory– there were more years under our belt DEVELOPING the black lab–so maybe their breeding was much further along when the yellow and chocolate had their debut. But we've spent DECADES making our yellows as competitive as our blacks, and have kept them genetically pure, and as always, the "all purpose" English Labrador.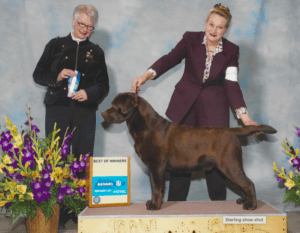 I have found a "mousy" -ish coat in the undercoats of BLACKS THAT CARRY CHOCOLATE (Bc).  But interestingly enough, those blacks that carry chocolate do not turn "white" quite as early—but that's MY lines—my BLACKS CARRYING YELLOW (By) do not have the mousy undercoat and DO tend to go white a "bit" earlier, but not all that much. And please note, I only notice this when they are shedding or sitting in, perhaps, a certain light where I can see a slight chocolate undercoat in the Bc's. I don't see that in the blacks carrying yellow (By). But BOTH should always have a proper coat as described in the AKC Breed Standard for the Labrador Retriever.
I would credit many breeders with doing a remarkable job with chocolates, who influenced me greatly (and I used many of their stud dogs to seed my lovely lines) such as Cheryl Curtis, Sue Willumsen, and the Hyspire ladies. You did incredible things for chocolates– you taught me so much and inspired and influenced my bloodlines forever. I must also thank Tana Carpenter of Carowby Labradors who gifted me with "Dreams," (and many others) one of the loveliest chocolates I ever did see, who then was the dam to my BISS GCH Endless Mt.'s Mack Truck ("Mackie"), who went "winners dog" at our 2009 Annual World Labrador Specialty (LRCP)! He was a Bc (a black carrying chocolate) and has influenced our chocolate and black lines indelibly.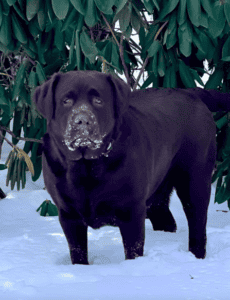 ("Dreams")
("Mackie", above)
After 36 years I've seen ticking, splashes, and all sorts of interesting things come through (especially when building my OWN bloodlines, I concentrated on weeding out all faults). Coat being one. In our next "vintage series" we'll talk about the (GASP!) first yellow Labrador breeders of English Labs and how they began!