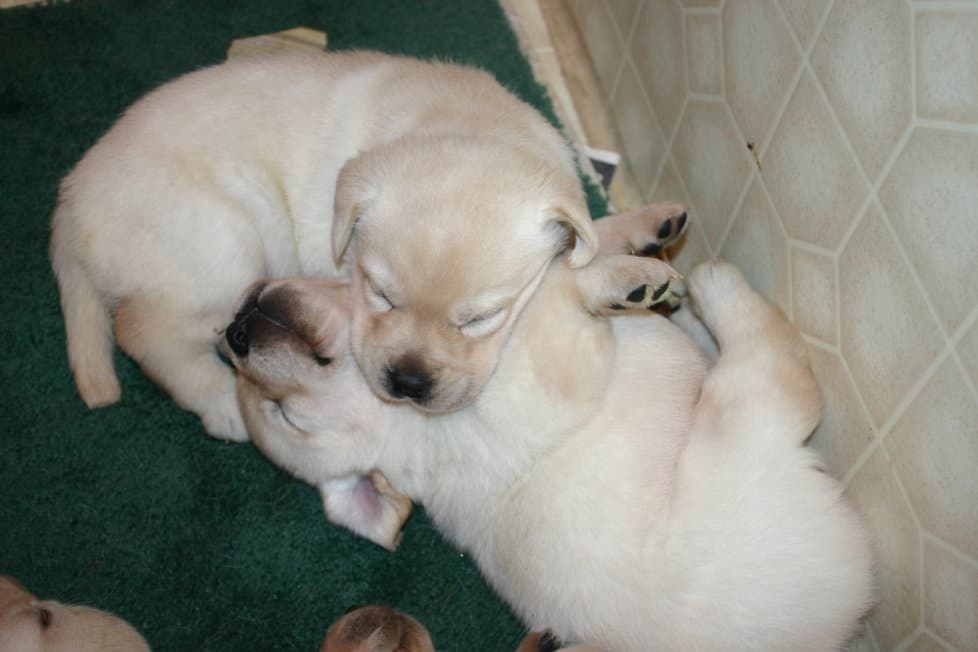 How to Choose a Breeder
The TOP FIVE MISTAKES people make in choosing their labrador:
…(hint) its more about choosing a breeder than a pup.
1.  A breeder should NEVER resort to tearing down other kennels or breeders names in order to sell you a pup, whether that be on the phone or somewhere else. Trust me. From being in the dog show world long enough, I've observed this time and time again. How about they tell you all the GOOD things about their dogs??
2.  Their response should be timely and professional. They will be interviewing you, so don't be surprised if they have as many questions for you as you do about them. Do them the courtesy of reading through their site so that when you speak with them, you will be familiar with their breeding program, their dogs, and their process of screening homes for their lab babies.
3. Don't go to the "closest" breeder.  Why would you want to save a couple/few hours of driving when we are talking about a canine family member that you'll spend 15+ years with?
4. Don't price shop.  Don't be fooled.  You can buy cheap at the get go, but end up with a $5,000-$10,000 surgery for joint issues, cataracts, and a myriad of other things that the professional breeder has done extensive clearances to prevent. Be sure they are familiar with the breed standard and the health issues within their breed and ask if they "clear" their breeding stock for those things (CERF, OFA, HEART, EIC, Optigen, HNPK, CNM, etc)
5. Look for the breeder that  has 25-40 years in the breed.  That is a LOT of time spent studying and learning everything possible they can about the health of the breed, nutrition for the breed, and how they develop. They should be able to supply pedigrees on their dogs, explaining up to 3-4 generations back, regarding their titles and clearances. Look for pictures and trophies at their place of business displaying their participation in showing their dogs. Use their professional handlers as a reference.  THEY have done business with them and will KNOW their business ethics better than anyone (wink!), as well as their dogs.
***Ask if they do OFA clearances on hips and elbows and WHAT the ratings are of the parent dogs.  Do they CERF their dogs for eye defects?  Do they do Optigen testing for prevent PRA.  Do they test for heart abnormalities by echo-doppler?  Do they test for EIC (Exercise induced collapse) and NARC? If the breeder cannot talk intelligently about these issues, kindly say, "Good bye, thank you for your time."
Some hints:  Choose someone you "like"…afterall, it may be a 15 year relationship. Take a look around their home and kennel.  Is it sanitary? Is there plenty of room for the dogs to run as they would in nature…play……socialize and have a variety of toys and activities? Were they timely in getting back to you? If not, you may find it difficult to reach them should a problem or question arise.
This hint is painful…do you look at their home/kennel and get the idea they have a good chance of having a large cash reserve should your pup actually need surgery covered under their health guarantee?  Can they afford to provide the best food possible for their lab family?  Is the environment peaceful and cheery…not chaotic?  Are the surface of the runs safe, not full of large gravel that does not clean well.  Are there large sized play areas? Are the kennels well drained? Is there adequate shade, swimming pools, and heated sleep areas for each and every dog?
Watch our YOUTUBE channel to get tips of how to find a good breeder here.
Lastly, use your heart and your discernment that God gave you!  Good luck!