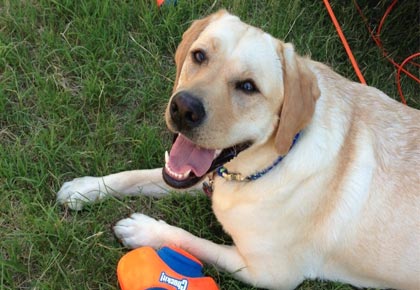 My Lab Saved My Life!
We received this REALLY cool email the other day from one of our beloved clients, Dani Alba, about her girl, Kodi.  Kodi has been through it all with Dani, and has shown since day one that she has a keen sense of awareness and intuition that is truly amazing.  I got chills when I read through this note, and just HAD to share it with you all!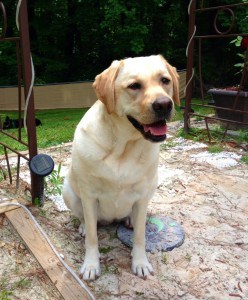 "Hi Donna!
It's been a little while since I wrote, but I keep up with the happenings going on at EML from the newsletters, website and FB page. Just wanted to let you know my Kodi girl is my lifesaver!
I hadn't been feeling 100% back in November of last year. Kodi, the always aware pup, knew this and stayed by my side. I just thought it was a normal stomach ache and treated it as so. The next day I was feeling fine, so no second thoughts were given about it. Though in February of this year, I could feel some type of mass in my lower abdomen. I made an appointment to see the doctor the next week. Of course nothing out of the ordinary is found that day, and the doctor couldn't feel what I had felt the week before, nor could I. So I went back to my every day activities. This lasted till the beginning of May.
One day in May, I was twisting to get something and felt a sharp pain and burn in my lower abdomen. I didn't cry out or anything but Kodi, who was in another room completely, came into my room and jumped up on my bed, which I had sat down on when I felt the pain. She started nudging my stomach right where the pain was, and let out a slight whine and wouldn't stop. I called my doctor and was able to get into see her that day. She did a few tests and took some blood. I went home and just relaxed for the rest of the day with Kodi glued to my side. She kept nudging the spot and whining and every once in a while she would tap me with her paw and then look at the spot. I kept telling her I was taking care of it. I got called the next day from my doc. She wanted to get more tests and scans done. Eventually we found out that I had a tumor and it was showing it was possibly cancerous. I told my doctor about my girl telling me this and how she wouldn't let me out of her sight whenever I was home. We scheduled the surgery for the end of May. The morning of the surgery, Kodi gave me a long look, then gave me a full sniff down. She usually tries to go everywhere with me, but that day she seemed to know where I was going and what it was for. She gave me a nose bump and then went and laid on my bed.
I ended up staying in the hospital for a while because I had some complications, but I was able to talk to her on the phone and video chat with her. She always gave me the sad eyes of her missing me and it hurt so much. I finally got the news that the mass was cancerous and the sharp pain I had felt before was the tumor when it had ruptured. I'm stubborn with a lot of things, including pain, so even though the pain was pretty bad, I probably would have just relaxed for a bit, let the pain subside and then go about what I was doing. If it wasn't for Kodi's insistence, I wouldn't have called the doc that day. I wouldn't have done anything about it till it was probably too late.
Kodi saved my life!
When I finally came home, she was so happy! I got the full sniff down and a few extra sniffs where the tumor was, then she put a front paw on each side of my head, pulled me close and gave me the best hug I have ever had! She's happy now and so am I.
I want to thank you because I owe you my life too! You are the best and I tell everyone about you and your dogs! I am so honored to be able to have one of them live with me. She is such a blessing to have and I would do anything for her! She is the best thing that has ever happened to me. Always puts a smile on my face, from jumping into my bubble baths (she still does that by the way, I'm never in the shower or tub alone) or to how she gives people hugs when she knows you need one! I love her with all that I have and I have you to thank!
Thank you Donna and everyone at Endless Mountain Labs!"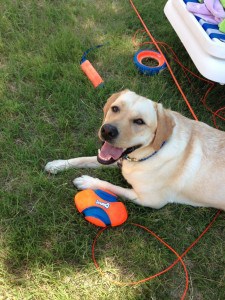 Kodi is truly an amazing girl that we never grow tired of hearing stories about… 🙂
To hear more amazing testimonies of Endless Mt. Labradors, click here!
More from the EML Blog:
5 Things to Remember when Introducing a New Pup to an Old Dog
Where Dog Parks and Socialization Classes Go Horribly Wrong…