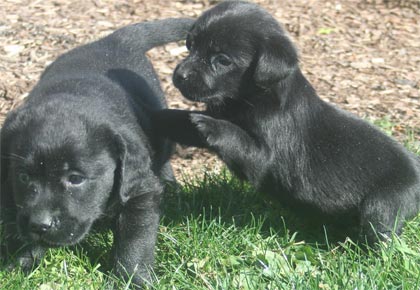 Size Genetics – "But I want the BIGGEST puppy!"
Size Genetics:
This is your lesson on Size genetics.
Size of  a dog is based on genetics.  It is NOT based on the size of the puppy at 8 weeks of age.  This is why I make it a point to tell my clients over and over DO NOT pick your puppy based on the size.  DO NOT worry about what puppy is larger and what puppy is smaller.  Pups grow at different rates, develop at different rates, just like children do.  Think about infant birth weights… will a 9 lb. baby necessarily be bigger than a 6 lb. baby as an adult?  Not at all! Bigger puppy does not equal bigger adult dog.
Pictured above are two black female pups from Erica and Ch. Endless Mt. Mack Truck, "Mackie" (the largest dog in our kennel!) The little one, Abbey, was the smallest of the bunch.  Not all 8 week old puppies are always the same size.  There are so many factors to affect the size of young pups.  Richness of mama's milk, size of litter, etc.  And like I said, puppies grow at different rates.  She was, however, the BIGGEST sweetheart!  (We all doted on her because of her pocket-size!)
Below is a picture of Abbey at 4 months old, sent to us by her family.  As you can see, she is no longer pocket-sized!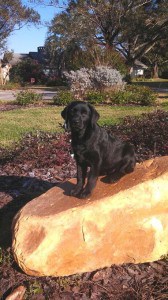 When it's time to pick your puppies, remember this information.  NEVER be concerned with the size. We breed in Lab Standard and our pups grow as they should.
Donna